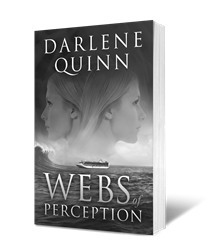 "I will miss my characters who I have lived with for so many years. But I have a whole new cast of characters for the next standalone novel I will be working on."
LONG BEACH, Calif. (PRWEB) October 26, 2018
International award-winning author Darlene Quinn is a master of personal reinvention, having adapted to new situations – and careers – throughout her life.
The 81-year-old writer worked as a teacher, a self-improvement coach, a modeling instructor and a top executive at a department store. But it was only after she resigned from that last position that she reinvented herself once again, this time as a novelist, fulfilling something of a childhood dream.
"I was always a storyteller," Quinn says. "However, I didn't put them down on paper because my greatest creativity came in spelling, so my stories ended up with little red marks and the papers looked like they had the measles."
But decades later, with computers at the ready to handle those spelling chores, Quinn published her first novel at age 72.
Today, the octogenarian writer shows no sign of slowing down. Her latest book, Webs of Perception (http://www.darlenequinn.net), the sixth and final novel in her Web series, is set for release in November.
The Web saga's concluding chapter is certain to thrill and enthrall her many fans.
"I will miss my characters who I have lived with for so many years," Quinn says. "But I have a whole new cast of characters for the next standalone novel I will be working on."
Webs of Perceptions opens with a rogue wave broadsiding a ship carrying college students on a study cruise, plunging twin sisters Callie and Marnie Taylor into tragedy. One suffers amnesia and the other disappears, apparently washed away into the ocean.
Quinn's novels, which follow the lives of multiple generations of a family, benefit from her years working in the retail-fashion industry. After serving as Corporate Training Director for the Bullock's Department stores, she was promoted to the management team of the Bullocks Wilshire Specialty department stores. She draws on that experience – along with extensive research in other areas – to bring realism to her stories.
For Webs of Perception, she met with a neurologist to gain a better understanding of autobiographical amnesia; learned about rogue waves; talked with the crew on a cruise ship during a trip to Canada; and interviewed a young woman who participated in a semester-at-sea program, which is what those twin sisters are doing in the novel's opening.
"Maintaining accuracy and authenticity is important to me," Quinn says. "But I never let the facts get in the way of a good story."
The previous five titles in Quinn's Web series have all been honored with national and/or international awards for excellence in the category of General Fiction. Although the novels form a series, each stands on its own so readers can pick up any book without feeling lost.
"When I wrote my first novel, I never dreamed of writing a series," she says. "However, I never know where my characters may lead me."
Quinn lives in Long Beach, Calif., the city where she was born and has spent most of her life. She uses Long Beach as one of the locales for her Web series, though the characters also end up in cities throughout the United States and the world.
The active Quinn says she begins most mornings with a 3-mile walk from her home to the pier and back. She then eats breakfast in front of her computer, re-reading whatever she wrote the day before, then picking up the story where she left off.
"I am not on a rigid schedule, though," Quinn says. "Some writers say they need to write every day, but I can't do that because I have a life to live."
About Darlene Quinn
Darlene Quinn (http://www.darlenequinn.net) is an author and journalist from Long Beach, Calif., whose novels about deceit, intrigue and glamour in the retail fashion industry were inspired by her years working in management with Bullocks Wilshire Specialty department stores. Her latest is Webs of Perception, the sixth and final book in her epic Web series. Previous titles in the series have been Conflicting Webs, Webs of Fate, Webs of Power, Twisted Webs and Unpredictable Webs.