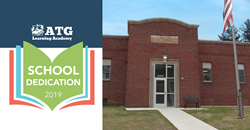 "Transitioning to our new home has opened a new door for us, literally and figuratively ... We are eager to serve more students who urgently need the innovative methods of learning we provide." — Kathleen Smookler, Head of School, ATG Learning Academy
CHALFONT, Pa. (PRWEB) April 04, 2019
ATG Learning Academy, a licensed 501(c)(3) Private Academic & Neuroplasticity School in Bucks County serving grades first-12th, specializing in cognitive repair for students with traumatic brain injury (TBI) and learning differences, will honor its relocation to a historic school building in Chalfont with a dedication ceremony on Friday, April 12.
The dedication is to begin at 11 a.m. and will include a ribbon cutting and speech by Head of School Kathleen Smookler. Following the ceremony, attendees are also invited to tour the newly renovated building.
The move is a significant step up for ATG Learning Academy, whose previous location in Warminster offered minimal space and privacy. The building at 3400 Pickertown Road, which has roots as an educational facility, provides an environment better suited to the needs of students and staff. It housed the Mill Creek School from 1928 to 1951 and was later used for kindergarten classes by Titus Elementary. A plaque on the school's exterior now designates it as a Warrington historic site.
"Transitioning to our new home has opened a new door for us, literally and figuratively," Smookler remarked. "In order for ATG to grow, we need the physical space to do it. We are eager to serve more students who urgently need the innovative methods of learning we provide."
The public is invited to attend the ceremony, tour the historic building and learn about ATG Learning Academy's mission. For more information, visit http://www.atglearningacademy.com.
About ATG Learning Academy
Approximately one in five U.S. children have learning and attention issues that affect their ability to learn in conventional educational settings. Students with learning differences, particularly those in the public school system, are often at risk of not receiving the attention and personalized schooling they need to succeed. At ATG, students are taught the way they learn best, allowing them to unlock their full academic, cognitive and societal potential.
ATG Learning Academy specializes in individualized learning and support for children with processing disabilities. The school provides individualized learning in a safe environment, so students with learning differences can achieve their academic goals. As a licensed 501(c)(3) Private Academic & Neuroplasticity School, ATG depends on support of the community in order to provide the best setting for education possible for their students.
In addition to fundraising events, Central Bucks community members contribute to ATG throughout the year via corporate match and retail giving services such as AmazonSmile, Paypal, and GoFundme. For more ways to donate, please visit ATGLearningAcademy.com/Support-ATG.
Thank you for supporting ATG.