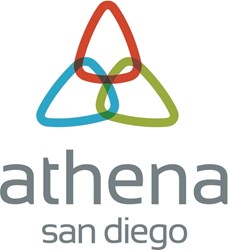 Athena holds their first public forum on "Lean In - Woman, Work and the Will to Lead".
(PRWEB) January 27, 2014
Athena, a non-profit executive professional group for women, has pulled together another power panel for the January 30th Signature Series. Executive leaders are diving in head first to weigh-in on Sheryl Sandberg's much debated book Lean In - Women, Work and The Will to Lead (http://www.leanin.org) released last year. Space is limited, register now for the evening event to be held at AMN Healthcare headquarters in San Diego. (http://athenasd.org/events/)
Executive panelists Mary Walshok, Susan Salka & Jaye Connolly will also pull back the curtain on what's worked for them in their respective career paths, sharing their strategies and tactics on being exceptional leaders while managing an active personal life, including families.
The executive panel will be moderated by Cheryl K. Goodman, a former broadcaster and Qualcomm executive, and the current owner of Social Global Mobile, LLC http://www.socialglobalmobile.com
Mary Walshok, Phd is the Associate Vice Chancellor for public programs and dean of the extension program at the UCSD. An industrial sociologist, Mary has studied and written extensively about the key ingredients needed to build knowledge-based clusters and high-wage jobs. She is a co-founder of San Diego's Connect and her research has helped stimulate the development of innovation economies around the world. Mary also is the co-author of Invention and Reinvention: The Evolution of San Diego's Entrepreneurial Economy and the author of Blue Collar Women; Knowledge without Boundaries; and Closing America's Job Gap.
http://extension.ucsd.edu/about/index.cfm?vAction=managementProfiles
Susan Salka is CEO, President and Director of AMN Healthcare, Inc. Susan has been has been one of the driving forces behind the company's strategic and operational success since joining in 1990, leading the company to approximately$1B in revenues. She served in several other executive positions at AMN prior to her current role, including SVP of Business Development, CFO, and COO. She currently serves on the board of directors of BIOCOM and The Campanile Foundation at SDSU, and has previously served on other public company boards, such as Beckman Coulter and Playtex Products. Susan has been recognized through a number of awards including Top Influential (2014 and 2011, San Diego Transcript), Woman of the Year (2012, San Diego Magazine), Exemplary Award (2011, San Diego Business Journal's Women Who Mean Business Awards), and San Diego's Most Admired Public Company CEO (2008, San Diego Business Journal). Susan is keenly aware of the need to promote the value of women in leadership, and AMN ranked #9 in 2013 of California companies with the highest percentage of women leaders (UC Davis Study of California Women Business Leaders). In addition to its financial success, the company has built a high-integrity, socially responsible culture guided by its core values. AMN's Core Purpose is to Help Achieve Professional and Personal Goals Every Day. In 2013 and 2014, AMN was named one of Achievers 50 Most Engaged Workplaces™, an annual award recognizing top employers who consistently display leadership and innovation in engaging their workplaces. http://amnhealthcare.com
Jaye Connolly, CFO/COO of Independa, Inc. Jaye is a strategic and financial leader who built her career from a beginning in Finance and M&A up through the ranks to the CEO office – twice. She led two healthcare companies (PathCentral and A-Life Medical) each to successfully being acquired. She brings broad experience in service and manufacturing organizations at the corporate, divisional and start-up levels. http://www.independa.com/jaye-connolly-chief-financial-officer-chief-operating-officer
You won't want to miss this panel discussion. Register to attend at http://athenasd.org/events/
About Athena
Our mission is to promote professional growth for women executives and rising managers in science and technology.
Sectors include life sciences, healthcare, defense, engineering, and related industries, as well as the service providers who support these sectors.
Personal and professional growth is fostered through unique educational and motivational programs that address key issues in these industries. Athena also provides networking opportunities that contribute to the vitality of women's roles in business and nurtures the next generation of women executives.
To learn more about joining, visit http://athenasd.org