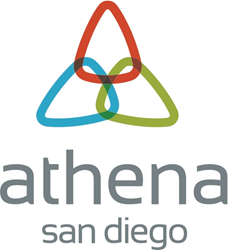 The Pinnacle Awards honors men, women, and companies in: life science, technology, education, and service areas.
San Diego, CA (PRWEB) April 23, 2015
Athena San Diego, an organization that accelerates professional success and personal development of executive women in San Diego's technology and life science sectors, will announce the winners of the 17th Annual Pinnacle Awards at their Gala on April 30, 2015 from 5-9pm at the Manchester Grand Hyatt Hotel. Register now at http://athenasd.org/events/
The Pinnacle Awards recognize individuals and a company who support the Athena San Diego vision of fostering networking, risk taking and diversity of thought, which together empower women in the workplace. Title sponsor of the event is Bank of America / Merrill Lynch.
The Pinnacle Awards Ceremony honors men, women, and companies in: life science, technology, education, and service areas. The 17th Annual Pinnacle Awards will also celebrate major milestones for the Athena organization. More than 80 Pinnacle Awards have been given to San Diego leaders helping to provide high level opportunities to women in the workplace.
Athena San Diego pays it forward by awarding scholarships to five exemplary high school senior women. These women will go on to study in the STEM fields of Science, Technology, Engineering, and Mathematics. The Athena Foundation has awarded 82 scholarships. Some of our previous award winners have gone on to graduate from schools such as MIT, Yale, Stanford, and other prestigious universities. Previous winners of the prestigious award include Melissa Morelos, a pediatrician at Kaiser Permanente Hospital.
Tickets to the Pinnacle Awards Gala are on sale now http://athenasd.org/events/.
About Athena San Diego
Athena San Diego is a 501(c)6 professional development association serving women executives and rising managers in science and technology as well as the service providers who support these sectors. Athena is a community of dynamic women that provides inspiration, education, networking and leadership programs that empower women to realize their true potential. For more information about membership and to learn more, visit athenasd.org.
CONTACT:
Deborah Jondall, Interim Executive Director
619.417.8443; Deborah(at)athenasd(dot)org