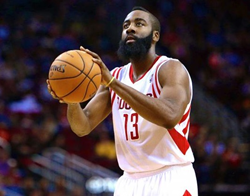 Athletes tap into loyal fan bases in the communities they play, but by extending their reach through social media, athletes and advertisers can truly reach hundreds of millions of fans above and beyond each sport's viewing A.D.I. - Evan Morgenstein
New York, New York (PRWEB) August 31, 2015
CelebExperts, a full-service celebrity acquisition agency assisting brands and organizations, has evaluated all celebrity marketing campaigns executed to determine which campaigns will deliver the best ROI for their respective brands. Over 60% of the celebrity marketing campaigns analyzed this month featured a sports star.
Sports stars are some of the most visible celebrities in the world touting a large fan base of consumers who follow their every move on TV, in the news and on social media. By utilizing the help of sports stars, brands can better develop a sense of trust with consumers through authentic messaging from their favorite sports stars.
"Athletes tap into loyal fan bases in the communities they play, but by extending their reach through social media, athletes and advertisers can truly reach hundreds of millions of fans above and beyond each sport's viewing A.D.I.," commented CelebExperts President and CEO Evan Morgenstein.
Here are the Top 5 Celebrity Marketing Campaigns of the month of August:
James Harden & Adidas: James Harden's nastiest crossover of the summer came this month when he dropped Nike to become the latest brand ambassador for rival brand Adidas. He signed a 13-year, $200 million contract with the brand that could potentially last until the end of his career. Does this spell the end for Adidas' commitment to Derrick Rose? Additionally, James Harden, a perennial all-star, may have just altered the landscape for apparel endorsement deals in the sport of basketball. Only time will tell!
Jordan Spieth, Stephen Curry, Misty Copeland & Under Armour: Under Armour is playing for keeps in their latest ad campaign featuring golf phenom Jordan Spieth, NBA Champion Stephen Curry and the first African American principal dancer for American Ballet Theater, Misty Copeland. All 3 of these individuals have celebrated monumental achievements this year. UA is capitalizing on their monopoly of iconic personalities to assert their dominance in the highly competitive marketplace for athletic apparel.
Odell Beckham Jr. & Head & Shoulders: When Troy Polamalu and his luscious locks retired from the NFL following last season, Head & Shoulders needed a new go-to guy on the field. Enter Odell Beckham Jr., quite possibly the most exciting player in the NFL right now with a great head of hair to boot! Head & Shoulders is investing in a player just starting his career with infinite potential as a superstar on and off the field in the world's biggest media market.
J.J. Watt, Peyton and Eli Manning & Gatorade: Gatorade is quenching the thirst of consumers with a hilarious new TV commercial campaign just in time for the start of the 2015-2016 NFL season. Pro-Bowl defensive end and the NFL's most popular player J.J. Watt and the Manning brothers take center stage, forcing unsuspecting victims to earn their Gatorade through a series of workouts. Timing is everything and with football fever running rampant in the streets, Gatorade found the perfect remedy in these popular NFL brand ambassadors.
Rob Gronkowski & Waze App: Ready for a night out on the town with Super Bowl champ Rob Gronkowski? Gronk just signed a new deal to lend his voice for turn-by-turn directions on Waze App, a free GPS navigation app for smartphone users. What a great play from Waze App! They've linked up with one of the most dynamic and entertaining personalities in the NFL who will provide their brand with a whole new playing field of consumer visibility.
Honorable Mentions: Ronda Rousey & Carl's Jr., Danica Patrick & Nature's Bakery, A.J. Green & Rockin' Refuel
About CelebExperts
CelebExperts is a leading consulting firm dedicated to demystifying the celebrity acquisition process and finding creative solutions to effectively market your brand leveraging the power of a celebrity. For more information on how your brand could utilize a celebrity talent as a spokesperson for upcoming marketing campaigns please contact our team at consulting(at)celebexperts(dot)com or give us a call at (919)459-5426.