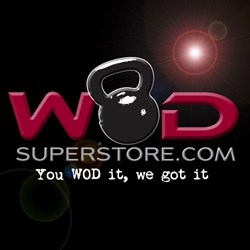 We are excited to enter into this partnership and look forward to putting some fun projects together for our fans and followers says Katona.
Naples, FL (PRWEB) August 30, 2013
Doug Katona and Brian MacKenzie have launched The Athlete Cell, an innovative training program for elite athletes. WODSuperstore is a sponsor of Athlete Cell disciple Talayna Fortunado, the 5th place finisher at the 2013 Reebok CrossFit® Games, and will be working with several other Athlete Cell followers.
As a part of the partnership, Katona and MacKenzie will be providing web content through informative blog posts and short videos for a new section of the WODSuperstore website named "Athlete Corner". The content will focus on training, recovery, nutrition and lifestyle content for all athletes who enjoy to WOD.
"WODSuperstore is always a place where we have gone to for our needs with our top athletes. We are excited to enter into this partnership with them and look forward to putting some fun projects together for our fans and followers," says Katona.
"Partnering with great coaches led by Doug and Brian will provide our customers, fans, followers and others with great information on several topics around the sport of fitness," says Bridgett Chandley, from WODSuperStore.com. "This is the type of content we feel our fans will connect with."
WODSuperStore and The Athlete Cell are planning to collaborate on a number of cross promotion initiatives for fans and customers such as contests to win coaching from The Athlete Cell, gear from WODSuperstore, special invitations to exclusive events and seminars and more.
ABOUT THE ATHLETE CELL
Doug Katona brings over a decade of strength and conditioning experience to The Athlete Cell including working with NFL athletes, top collegiate programs, Olympic hopefuls and various Regionals, Masters and CrossFit® Games athletes such as Matt Hathcock, Becky Conzelman, Guido Trinidad, Rika Diedericks, Orlando Trejo and more. Katona and partner Brian MacKenzie launched The Athlete Cell in 2013 for competitive CrossFitters to help with programming, lifestyle and nutrition to elevate athletes to their highest potential.
ABOUT WODSUPERSTORE.COM
WODSuperStore.com is the premier online provider of gear and apparel. WOD is a common term, meaning workout of the day. Leveraging relationships with over 50 vendors and economy of scale, they bring together the best products and brands for passionate athletes who participate in CrossFit® everywhere with the best customer service in the industry by offering a $4.99 flat rate shipping fee to the US and a 365 -day, free return policy.
CrossFit® is a registered trademark of CrossFit, Inc. and no endorsement or association is implied.