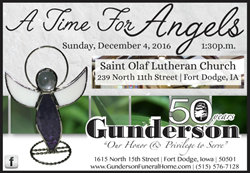 "My wife Keely encouraged us to start this annual service of remembrance. We recognize that the holiday season can be difficult for those experiencing grief and we hope this service helps bring comfort." states Phil Gunderson
Fort Dodge, Iowa (PRWEB) November 21, 2016
A Time For Angels will again be held at St. Olaf Lutheran Church located at 239 North 11th Street in Fort Dodge, Iowa on Sunday December 4th at 1:30 pm. Gunderson Funeral Home and Cremation Services has annually sponsored this event since 1998.
Speakers Rev. David Grindberg with St. Olaf Lutheran Church & Monsignor Kevin McCoy with Holy Trinity Parish assist with the program. During the service, names of those being remembered are read and their family are presented with an angel ornament to take home as a keepsake.
This is the 18th year for the annual remembrance service and has grown to over 1,000 angels provided to the families of those remembered. Each year a new angel is specifically designed for the event.
"My wife Keely encouraged us to start this annual service of remembrance. We recognize that the holiday season can be difficult for those experiencing grief and we hope this service helps bring comfort." states Phil Gunderson, Owner of Gunderson Funeral Home and Cremation Services. "Invitations are sent to the families Gunderson Funeral Home & Cremation Services has served in the past year. However, it is an event open to the community as well."
Grief does not have a timeline so for those who have lost a loved one and would like to attend, they are encouraged to do so. Additional names to be remembered can be added by registering online on Gunderson Funeral Home's Facebook event page.
Gunderson Funeral Home & Cremation Services is celebrating 50 years of service in 2016. Commenation of the 50 years was part of the planting of 50 trees in the Fort Dodge community. Located at 1615 North 15th Street, Fort Dodge, IA. Additional information is available by calling (515) 576-7128 and visiting http://www.gundersonfuneralhome.com. Follow them on Facebook, Google+ and LinkedIn #ThisIsFortDodge