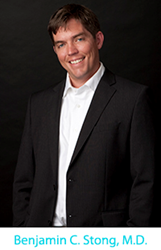 I feel fortunate to be able to help children and adults alike by removing unsightly birthmarks or other vascular malformations that have been present since birth... Dr. Benjamin Stong
Atlanta, GA (PRWEB) December 30, 2014
Dr. Benjamin Stong of Kalos Facial Plastic Surgery, LLC in Atlanta, Georgia is proud to offer the latest non-surgical treatments for unwanted birthmarks and vascular anomalies. Dr. Stong is a double board certified facial plastic surgeon who specializes in treating and removing congenital vascular malformations, or CVM, with laser therapy or sophisticated surgical technique that can be done in his state-of-the-art facility. His facial plastic and reconstructive surgery practice is located at 5670 Peachtree Dunwoody Road, Suite 910 in Atlanta, Georgia and offers a full range of both surgical and non-surgical facial plastic surgery techniques and skin rejuvenation procedures.
Most birthmarks are caused by a superficial vascular malformation, consisting of abnormal collections of small blood vessels near the skin. Congenital vascular malformations are present at birth and can involve arteries, veins, capillaries, lymphatics, and combinations of these blood vessels. Although congenital vascular malformations may seem to be the same type of birthmark as a vascular tumor, or hemangioma, the difference is important to a child. Unlike hemangiomas, which tend to grow rapidly and then get progressively smaller, congenital vascular malformations will continue to enlarge and grow as the child grows.
Depending on where a vascular malformation occurs, continued growth could become a major cosmetic concern. Patients with birthmarks on the face, neck or other visible parts of the body often consider removal due to their unsightly appearance. Dr. Benjamin Stong is a highly skilled facial plastic surgeon who can significantly improve the appearance of congenital vascular malformations in patients from babies through older adults.
In the past, the only form of treatment for these types of vascular anomalies was surgical removal. Today, laser therapy has also become an effective and safe form of treatment for congenital vascular malformations. Dr. Stong is pleased to announce this non-invasive laser treatment option at his Atlanta facility, providing highly successful results to patients with unwanted vascular skin defects. Fortunately, congenital vascular malformations have a characteristic reddish color that closely corresponds with the range of lasers used for their removal. It is important to note that advanced laser therapy for CVM may require multiple treatments, depending on the size, location and severity of the lesion.
Dr. Benjamin Stong has proudly adopted this advanced laser therapy for birthmarks as well as the latest facial plastic surgery techniques in his own practice. "I feel fortunate to be able to help children and adults alike by removing unsightly birthmarks or other vascular malformations that have been present since birth and may have caused them to be self-conscious about their appearance," said Dr. Stong. "A visible, growing vascular lesion on the face or neck can be a difficult cosmetic issue to overcome, even for a child. We are proud to offer such innovative birthmark removal treatments as well as other specialized facial reconstructive services to the Atlanta Metropolitan area."
About Dr. Benjamin Stong and Kalos Facial Plastic Surgery, LLC:
Owner and facial plastic surgeon, Dr. Benjamin Stong is dual board certified in Head and Neck Surgery and Facial Plastic and Reconstructive Surgery. He completed his fellowship under one of the most nationally renowned plastic surgeons, Dr. Andrew Jacono in New York. He has combined such a reputable level of training with his own proven experience and talent to bring patients of Atlanta outstanding results in plastic surgery. Kalos Facial Plastic and Reconstructive Surgery specializes in providing the most advanced techniques in facial plastic surgery. If you would like to get more information about congenital vascular malformation removal offered by Kalos Facial Plastic Surgery, LLC, please call their Atlanta office at (404) 963-6665 or visit their website at http://www.kalos-plasticsurgery.com.