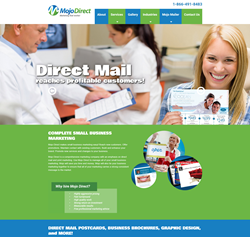 We have a unique opportunity to better serve the needs of our clients. We use huge, state of the art, high volume printing facilities. CEO - Bryan Burrell
Atlanta, GA (PRWEB) January 31, 2015
Atlanta based, Mojo Direct is excited to announce the expansion of their offering to include general full service business printing and bindery finishing services. Until now, Mojo Direct, LLC has been focused primarily on providing full service direct mail marketing services such as direct mail postcard design, printing, and bulk mail handling. When asked why Mojo Direct is expanding their product line to include a broader range of general business printing services, Bryan Burrell, CEO, Mojo Direct explains, "We have a unique opportunity to better serve the needs of our clients. We use huge, state of the art, high volume printing facilities. This produces economies of scale that give us the ability drive down costs and offer very aggressive pricing while maintaining exceptionally high quality. It makes sense for us to leverage these competitive advantages to offer our customers more than just direct mail marketing services."
Mojo Direct is excited to offer additional printing services to help their clients drive strong returns on their marketing investments. Even though digital marketing is clearly growing -according to webdam.com, 55% of marketers increased digital marketing budgets in 2013. The printing industry continues to be one of the world's largest industries. According to Print is Big.com the printing industry is still a $640 Billion dollar industry which makes print larger than the auto industry and which means this is plenty of room for Mojo Direct to grow its printing business. Mr. Burrell believes that consumers connect more directly with tangible printed marketing materials and this physical connection to a business' marketing material drives brand equity can ultimately help generate sales.
About Mojo Direct, LLC:
Mojo Direct offers comprehensive print marketing services to businesses throughout the country. They strongly adhere to a mission to provide only the highest quality print marketing services to create strong impactful positive impressions. These services include business sales collateral, business stationary, envelopes, business cards, specialty printing, and direct mail marketing. Mojo utilizes state of the art print technology, fully staffed and equipped facilities, highly creative graphic designers, and skilled marketing executives with decades of experience working for Fortune 500 Companies.
If you would like more information about Mojo Direct, LLC services, please call (866) 491-8483 or visit their website at http://www.mojo-direct.com.