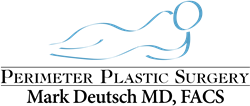 If you're thinking about getting breast implants, spring is the ideal time to have a breast augmentation so you can have plenty of time to heal before bathing suit season is here
Atlanta, Georgia (PRWEB) March 15, 2016
To welcome in spring, Atlanta plastic surgery practice Perimeter Plastic Surgery is offering a special on breast augmentation (implants) surgery through the end of March: $500 off breast implants, along with complimentary consultations.
"If you're thinking about getting breast implants, spring is the ideal time to have a breast augmentation so you can have plenty of time to heal before bathing suit season is here," says Mark Deutsch, MD, a board-certified plastic and reconstructive surgeon and medical director of Perimeter Plastic Surgery.
Each year, Dr. Deutsch performs hundreds of these surgeries, the majority of them occurring during the spring months as patients prepare for warmer weather. Breast augmentations and breast lifts are both popular procedures, each enhancing the shape of a woman's breasts in some way. Breast augmentation uses implants to increase breast size. A breast lift raises sagging or drooping breasts and relocates the position of the nipples and areola. While many patients opt for one or the other, a lot of women have both a breast augmentation and lift done at the same time.
For women who are wondering which procedure is right for them, Dr. Deutsch's advice is to make an appointment for a complimentary consultation. "This will give you the opportunity to open up about any concerns you may have, discuss your treatment goals, and allow us to help you determine which breast procedure is right for you," he says.
Another suggestion is to take the "Which Breast Procedure is Right for You?" quiz on Perimeter Plastic Surgery's website.
If you have additional questions about cosmetic breast surgery or to schedule your complimentary consultation, please call Perimeter Plastic Surgery at 404-255-0886. Don't delay. Take advantage of Perimeter Plastic Surgery's $500 off spring promotion so you can be ready for hot summer temperatures.
About Perimeter Plastic Surgery:
Dr. Mark Deutsch is the founder of Perimeter Plastic Surgery and a top plastic surgeon in Atlanta. He is board certified by the American Board of Plastic Surgery, and performs a variety of cosmetic and reconstructive surgeries. In addition to his work in the United States, he travels annually to South America to perform volunteer procedures. For more information about Dr. Deutsch and Perimeter Plastic Surgery, please visit perimeterplasticsurgery.com.