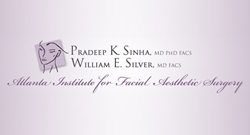 The Atlanta Institute for Facial Aesthetic Surgery is now offering an innovative, new injectable treatment to greatly improve or even eliminate submental fullness (double chin)
(PRWEB) December 08, 2015
Having a double chin, or what is known medically as "submental fat," is one of the most common complaints shared by both men and women regarding their personal appearances. This excess fat under the chin and in the upper area of the neck can be difficult to correct through diet and exercise, leaving many individuals feeling self-conscious and embarrassed.
"Up until now, the only option for double chins was liposuction or surgically removing the fat by cutting it out," notes Pradeep K. Sinha, MD, PhD, FACS, founder and director of the Atlanta Institute for Facial Aesthetic Surgery. This year, a completely non-invasive treatment was approved by the U.S. Food and Drug Administration and made available to plastic surgeons. Called Kybella™, this innovative, new injectable treatment greatly improves or even eliminates submental fullness (excess fat under the chin).
Dr. Sinha is thrilled to announce that the Atlanta Institute for Facial Aesthetic Surgery has added Kybella™ to their line of procedures and services. "Its results are very well documented, and it's a great addition to our practice," he says. "Kybella™ will help a lot of patients, because the double chin can be such a stubborn problem that affects so many people."
Kybella™ is a synthetic form of deoxycholic acid, a bile acid produced in the human body which helps break down and absorb fat cells. When injected into submental fat, Kybella™ emulsifies fat cells, reducing their appearance and creating a smoother, more refined chin and jawline profile. Once destroyed, those cells cannot store or accumulate fat. Unlike many other cosmetic injectables, which typically require ongoing maintenance treatments for years, the effects of Kybella™ are intended to be permanent.
Most patients typically need between 2 to 6 treatment sessions spaced several weeks apart. Exactly how many Kybella™ treatments are needed depends on the amount of fat in the neck and the individual patient's response to the injections. Treatments are performed in-office, each one usually taking between 15 and 20 minutes.
"Kybella™ is a huge plus over surgery," Dr. Sinha says. "The procedure is entirely non-invasive, and there's little or no recovery time needed and minimal risks. You don't have to take time off of work, and it's not going to interfere with your regular schedule."
For more information about Kybella™ or to schedule a consultation with Dr. Sinha at the Atlanta Institute for Facial Aesthetic Surgery, please visit http://facialaestheticsurgery.com or call 404.256.5428.
About The Atlanta Institute for Facial Aesthetic Surgery:
The Atlanta Institute for Facial Aesthetic Surgery specializes in facial aesthetic and reconstructive procedures. Founded by Dr. Pradeep Sinha, a double-board certified surgeon in otolaryngology and plastic and reconstructive surgery, the Atlanta Institute for Facial Aesthetic Surgery provides patients with customized procedures to achieve natural facial enhancement with minimal downtime. Functional surgery of the head and neck is also performed, helping patients with reconstructive needs as a result of injury or natural, physical irregularities. The Atlanta-based practice is focused on aesthetic facial rejuvenation with the most complete set of advanced surgical, laser and office procedures. For more information, visit http://facialaestheticsurgery.com.