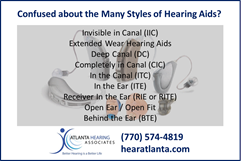 Atlanta, Georgia (PRWEB) October 14, 2013
Investigating hearing aids can be tough for the first time buyer because there are numerous different types and so many different acronyms used to describe them. Atlanta Hearing Associates hopes that the quick reference list of common hearing aid types and terminology recently added to their website will help Atlanta residents better understand their hearing aid options.
The page Quick Reference Guide for Hearing Aid Types, Style and Acronyms describes the major Atlanta hearing aid styles ordered from smallest to largest size. It includes information on the Invisible in Canal (IIC), Extended Wear Hearing Aids, Deep Canal (DC), Completely in Canal (CIC), In the Canal (ITC), In the Ear (ITE), Receiver In the Ear (RIE or RITE), Open Ear / Open Fit, Behind the Ear (BTE), and Power models.
When all the hearing aid models are listed alongside each other, it really is easy to see the reason why consumers have difficultly distinguishing them. Many of the names and acronyms are very similar. Atlanta Hearing Associates hopes that the guide will help clarify a number of of the important differences between the various types of hearing aids. While noting that internet research is an important step in selecting the ideal hearing aid, Audiologists would caution potential buyers that there is a lot of additional information to be obtained by talking to a hearing care specialist. The Audiologists help shoppers narrow the options by inquiring about activities, lifestyle and the surroundings in which the hearing aid will be used. These are all important factors in selecting the right hearing aid.
About Dr. Joy Pritchett
Dr. Joy Pritchett is the CEO and President of Atlanta Hearing Associates. Dr. Pritchett has a Bachelor's Degree in Speech Pathology and Master's Degree in Audiology from Auburn University. She later graduated with a doctoral degree from Central Michigan University with a concentration in the assessment and rehabilitation of balance disorders.Dr. Pritchett's areas of clinical interest are: 1) establishing evidence based guidelines for the fitting of hearing aids, 2) auditory processing tests that are predictive for children who become poor readers, and 3) rehabilitative measures to reverse these processes. Dr. Pritchett is a member of the American Academy of Audiology, American Speech and Language Association, Georgia Academy of Audiology, Academy of Doctoring Audiologists, and licensed by the State of Georgia.
About Atlanta Hearing Associates
Atlanta Hearing Associates, the top provider for hearing loss services and hearing aids in Atlanta, has been in the Georgia area for several years. The company prides itself on making sure its clients have the most up-to-date information and technology. Atlanta Hearing Associates has four convenient offices in the Atlanta area to serve its patients—one in Greensboro, one in Milledgeville, one in Decatur and one in Dunwoody. Their all-inclusive approach to helping their patients hear ensures that each patient gets the hearing aids and accessories for their individual lifestyle.
Contact:
Dr. Joy Pritchett
http://hearatlanta.com
Atlanta Hearing Associates
1713 Mt. Vernon Road, Suite 3
Dunwoody, GA 30338
(770) 574-4819
Atlanta Hearing Associates
1051 Parkside Commons, Suite 103
Greensboro, GA 30642
(706) 623-4425
Atlanta Hearing Associates
111 Field Stone Dr., Suite 106
Milledgeville, GA 31061
(478) 387-4186
Atlanta Hearing Associates
1991 N. Williamsburg Dr., Suite A
Decatur, GA 30033
(404) 549-6788