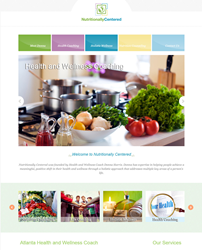 My goal is to provide individuals with the tools they need to overcome sugar addiction and to permanently improve their physical and mental health.Donna Harris - Health and Wellness Coach
Atlanta, GA (PRWEB) July 16, 2014
Nutritionally Centered is pleased to announce the availability of an engaging educational event titled "Conquer the Sugar Blues: Understand the Truth Behind Sugar Addiction and How to Successfully Navigate Your Way to a Healthier Mind and Body" on Thursday, August 7, 2014. This interactive workshop is free of charge and will take place at the Atlanta National Golf Club located at 350 Tournament Players Drive in Milton, Georgia.
The workshop will be conducted by Donna Harris, a local Health and Wellness Coach and founder of Nutritionally Centered. The purpose is to help individuals understand how to deconstruct sugar cravings, uncover hidden sugars in their diets and confidently choose healthier alternatives, without feeling deprived. The agenda includes a discussion on the symptoms of sugar addiction and its effect on the mind and body, what sugar cravings really mean, and important tips on how to kick the sugar blues for good. During this time, individuals will have the opportunity to share their own unique struggles with sugar, have their questions answered, and make connections with others in their community.
According to data collected by the United States Department of Health and Human Services, sugar is the most popular ingredient added to foods in the United States. Everyday, sugar is added to a variety of processed foods consumed by the American public including sodas, ketchup, spaghetti sauces, salad dressing, cookies, sweets, cereal, peanut butter and more. A study conducted by the United States Department of Health and Human Services showed that the average American consumes almost 152 pounds of sugar in a year. This number is dramatically higher than in years past and continues to rise. This is a problem since a multitude of studies have linked excess sugar consumption to a variety of health problems including obesity, Diabetes, depression and several other chronic diseases.
This workshop has been designed by Donna Harris to help individuals understand and overcome the common problem of sugar addiction. According to Donna, "Sugar addiction runs rampant these days and is, hands down, the number one concern I hear from my clients. This workshop is designed to provide a fun and engaging way for individuals to learn about sugar addiction and its negative impact on the mind and the body. My goal is to provide individuals with the tools they need to overcome sugar addiction and to permanently improve their physical and mental health."
In order to preserve the intimate design and to maximize interactivity, space for this event is extremely limited. Individuals who are interested in attending the workshop are encouraged to book their spots today by visiting the Nutritionally Centered website at http://www.nutritionallycentered.com.
About Nutritionally Centered:
Nutritionally Centered is based in Alpharetta, Georgia and was founded by Health and Wellness Coach, Donna Harris. Nutritionally Centered takes a holistic approach to health and offers individual nutritional counseling, corporate health coaching, and other important services designed to help people create healthy and fulfilling lives, with nutrition at the core. If you would like to get more information about Nutritionally Centered or to sign up for the workshop, please visit their website at http://www.nutritionallycentered.com.