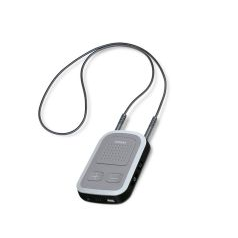 My hearing aids that I received from the Atlanta Hearing Institute allows me to hear the birds chirping in the morning, something I could never hear before.
Atlanta, GA (PRWEB) September 30, 2013
When it comes to hearing aids, the technology to connect/stream to media was launched as early as 2004. Most technology levels (except products geared toward pediatrics or the very inexpensive essential line) have the appropriate computer chip inside hearing aids to connect with and use these various types of Bluetooth accessories. These units are worn around the neck and are able to stream cell phone conversations, television, and more through the hearing aids. These accessories immediately and easily increase the user's benefit from hearing aids. As the Bluetooth line are all optional accessories to a hearing aid fitting, the cost range is much lower than hearing aid pricing, ranging from $350-$500. These accessories are designed to increase ease of use of:
Phone: Imagine hearing a cell phone conversation in both ears! With the phone's wireless connection via the ComPilot (pictured right) or Streamer to the hearing aids, the volume of the speaker's voice can be amplified, thus to override any ambient noise such as car noise, wind noise, air conditioning/heating, or other passengers. Further options include caller ID, voice dialing, and voice message signal alert.
Harold Neace drives for a towing company and is constantly on his cell phone taking calls from customers. "My hearing aids that I received from the Atlanta Hearing Institute allows me to hear the birds chirping in the morning, something I could never hear before," said Neace. "I can hear my six grandchildren better than I ever have which is a blessing. And the Phonak ComPilot makes my job easier by helping me to better understand my customers when they call." This technology can make any cell phone a 'smart' phone indeed!
When it comes to TV, if the TV volume is up so much that others say it is too loud or the the TV room prone to an echo/ reverberation that makes it difficult to hear, then a TV Link may be the right solution. The sound coming from the speakers of the television set can be streamed directly to the end user's hearing aids using the ComPilot or Streamer without affecting the volume of the TV set itself. This helps the listener receive a direct, clear signal straight from the television set, which can override all ambient noise or decrease reverberation (which distorts the sound). Most streamers can transmit up to 30 meters. Dr. Howard Herman has been practicing with ENT of GA since 1993. He says of the Bluetooth Hearing Technology, "it is a comfort to know that our hearing aid patients have a way to stream music and information from either their laptop, e-reader, MP3 player, television, or cell phone through the ComPilot, and use these items just as easily as those without any hearing issues."
Remote Microphones: In situations of extreme background noise (think Cracker Barrel during a lunch rush) it may be a difficult task for some to understand a person at the same table, depending on the level of background noise, the acoustics of the room, or even where one is seated. For very severe types of hearing loss, even the use of hearing aids is not quite enough for heavy background noise. The remote microphone is simply a microphone that a speaker wears by clipping it on a collar or shirt pocket, so that whatever this microphone picks up would be streamed directly to the listener's hearing aids.
Fred Merritt, a contractor, has been using the Phonak Remote Microphone for the last year. "It is certainly the best product I've used to improve my hearing," said Merritt. "My wife puts the remote microphone on her shirt or dress and I can hear her more clearly than ever before, I tell her it sounds like she's sitting right on my lap!" The remote microphone can decrease the user's annoyance to background noise, and increase the quality of the conversation. The remote microphone is also useful in a place of worship, a meeting area, or any place where listeners cannot be exactly in front of the person talking as it transmits up to 20 meters. Making it easy to not miss a word.
Some common questions people have are the following:
Q. What if the individual using hearing aids that is a bit older in age, and wants to use one of these accessories? There are other Bluetooth accessories, in the $150-250 price range, that work with a hearing aid's telecoil---this technology should be ingrained in multiple sizes, from multiple manufacturers, and this technology dates back to the late 70s!
Q. What if the individual already uses the Bluetooth connection through the car. Which is better? Many patients have reported that the level of road noise is decreased more by use of the ComPilot or Streamer.
Q. Where else can this accessory be used? Anything that has a headphone jack can be streamed directly to the hearing aids through the accessory: a tablet, a reading device, a laptop computer, an MP3 player, even movies on an airplane!
About The Atlanta Hearing Institute
Atlanta Hearing Institute is pleased to offer a current Phonak promotion! With the purchase of advanced technology hearing aids, we are offering a free ComPilot! With the purchase of premium technology hearing aids, we are offering a free ComPilot and your choice of either a remote microphone OR a TV stream system! Consult your audiologist for details. Valid through October 2013.
At the Atlanta Hearing Institute, you can expect a complete and thorough Atlanta hearing evaluation by a Doctor of Audiology. This is the first step in determining the technology you need to maximize your individual communication abilities. Appropriate hearing technologies will be demonstrated to you in the office. We believe "hearing" the technology in action is important!
Selecting the appropriate healthcare providers to diagnose and manage your hearing problems is an important decision but it doesn't have to be a difficult one. At Atlanta Hearing Institute, we are all Doctors of Audiology, Board Certified Ear, Nose and Throat surgeons, and Otologists who are experts in our fields. We specialize in the latest amplification technology including state of the art hearing aids and implantable devices such as BAHA (bone anchored hearing aid) and cochlear implants. We are also leading the way in introducing the newest surgically implantable hearing device, the Maxum. The Maxum hearing implant is an excellent option for those considering surgical hearing solutions beyond the traditional hearing aid. It is an FDA approved device for moderately severe to severe hearing loss since 2011.
Our facility is leading the way in providing management options for patients who experience "ringing of the ears" or other subjective sounds in the ears known as tinnitus. Our new combination hearing aids infuse hearing aid technology with tinnitus management maskers for relief from ringing ears. This technology creates an environment where the tinnitus is reduced and controlled, while the hearing aid portion provides crisp and clear understanding.
Recognizing the unique needs of each patient who requires hearing aids to manage their hearing loss and communication demands, the Atlanta Hearing Institute offers a wide range of hearing technologies from Oticon and Phonak. Some Phonak hearing aids such as the Nano are completely unseen, placed deep in the ear canal. The Naída Q offers excellent moisture management and durability for active patients with severe to profound hearing losses with high power demands. The Audeo Q and Virto instruments can eliminate wind noise up to 40 mph, automatically focus on a single voice during conversations in extremely noisy environments, and utilize Sound Relax for extreme comfort, even in the loudest of acoustic environments. Through Oticon, we offer Alta with YouMatic Sound and the Personalization Process to help each client reach the highest level of overall satisfaction with their hearing device fitting experience. All of our Oticon and Phonak hearing aid offerings can be customized with wireless devices like your cell phone or TV through Bluetooth accessories, keeping you hands free and connected with the technology you use every day.
Our hearing doctors continue to provide exceptional hearing treatment in Atlanta. We are committed to providing the highest quality in hearing healthcare. We adhere to the best practice guidelines and code of ethics established by the American Academy of Audiology.
Your Doctors of Audiology are always here to help:
Lindsay Lanson, Au.D., CCC-A
Jocelyn Sysko, Au.D., CCC-A
Anesheia Prince, Au.D., CCC-A
Doctors of Audiology, certified by the American Speech Language, Hearing Association and Fellows of the American Academy of Audiology.
For more information and appointments, call 770-991-2800, fax 770-997-3827 or schedule an appointment online at http://www.AtlantaHearingInstitute.com.
Fayetteville: 1240 Highway 54 West, Suite 710 Fayetteville, GA 30214 (Directly across from Piedmont Fayette Hospital)
Stockbridge: 830 Eagles Landing Parkway, Suite 102 Stockbridge, GA 30281 (In the Heritage Bank Building, about a half a mile from the Henry Medical Center)