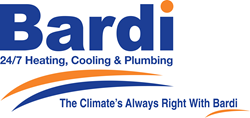 These specials are our way of saying 'Happy Holidays' to our customers, and hopefully spreading some holiday cheer
Atlanta, Georgia (PRWEB) December 17, 2015
With the winter weather and the holidays just around the corner, Bardi is offering some timely specials: 10 percent off HVAC (heating, ventilation and air conditioning), gas fireplace, and plumbing repairs and replacements through December 31. In addition, Bardi is offering a drain cleaning special (up to 75 feet) for a discounted rate of $99.
"These specials are our way of saying 'Happy Holidays' to our customers, and hopefully spreading some holiday cheer," says Adam Bardi, residential service and sales manager for Bardi Heating, Cooling & Plumbing.
He says the coupons are also a way of encouraging homeowners to take care of any furnace, fireplace or plumbing repairs, in preparation for the holidays. "This is the time of year when most people are doing extra cooking, having a lot of company, and using their fireplaces and plumbing a lot more," observes Bardi. "If you're having HVAC or plumbing issues now, it's best to get the repairs done before the holidays are in full swing, so you don't have emergencies when you're entertaining guests."
The holiday season and winter months can be a busy time of year for service technicians, so Bardi recommends homeowners not postpone scheduling any repairs that may be needed. To schedule a service call and take advantage of Bardi's pre-holiday specials, please call 770-263-5355. Coupons must be presented at the time services are performed. To obtain a coupon, visit Bardi's website at http://bardi.com.
Holiday support to StreetWise Georgia
In addition to offering discounts on repairs, Bardi Heating, Cooling & Plumbing is spreading holiday cheer another way: by supporting the Atlanta-based nonprofit organization, StreetWise Georgia, in their efforts to share with low-income families this holiday season.
Year-round, StreetWise assists financially-struggling families, primarily in Atlanta, by providing them with tools and resources to help them be more self-sufficient, and meet their physical, mental, emotional and spiritual needs.
For the holidays, StreetWise provided Bardi with a list of presents that the children they support wanted. Holiday tags were hung on Bardi's office Christmas tree with the presents being requested. Bardi employees were then encouraged to each pick a tag and buy the gift on the tag. Street Wise will be picking up the toys before Christmas, and then will be handing them out to the families they assist.
"At Bardi, we make it a goal to give back to our community as much as we can," Bardi says. "It's important to consider people and families who don't have what they need. We try to do that all year long, but especially during the holiday season."
About Bardi Heating, Cooling and Plumbing:
Bardi Heating, Cooling and Plumbing is a family-owned HVAC and plumbing company in Atlanta. Founded in 1989 by Alex and Susan Bardi, the company has been providing the Atlanta area with quality HVAC services for over 25 years. Bardi also offers plumbing repairs and services, and is home to an experienced management team as well as an outstanding team of NATE certified technicians, whose number one priority is to keep their customers satisfied by "Always, always, always doing the right thing." Bardi provides free electronics pick-up and recycling on all service calls benefiting Nobis Works. For more information about energy efficient HVAC products, visit http://bardi.com or call 770-263-5355.