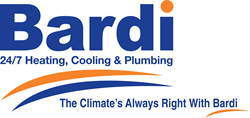 The holidays are a stressful and expensive time of year. It is our hope that these specials will save our customers some money, and help them feel more secure about their furnaces and pipes this season
Atlanta, Georgia (PRWEB) November 25, 2015
With the holidays fast approaching, the last thing anyone wants to deal with is heating or plumbing issues. To help homeowners prepare for holiday entertaining, Bardi Heating, Cooling & Plumbing is announcing specials on heating and plumbing services.
Bardi is offering 10 percent off any heating, ventilation and air conditioning (HVAC) or gas fireplace repair and replacement until the end of the year. For those in need of a new furnace, the company is offering up to $1,700 off an installation of a Lennox Ultra Efficient Comfort System with solar panels and thermostat.
For plumbing, Bardi is also offering a 10 percent discount on any repair or replacement. If clogged drains are a problem, this is a good time to get them taken care of too. Bardi will clean up to 75 feet of a homeowner's main sewer line for a discounted rate of $99. Both plumbing specials run through December 31, 2015.
"Because drains are more likely to get clogged during the holidays than any other time of the year, getting pipes cleaned in advance will ease worries about plumbing problems in the height of the season," says Adam Bardi, residential service and sales manager for Bardi Heating, Cooling & Plumbing.
Additionally, until November 30, Bardi is offering a free plumbing trip to homeowners in the Atlanta area, Monday through Friday, between the hours of 8 a.m. and 5 p.m.
"We are so glad to be able to offer these promotions," Bardi says. "The holidays are a stressful and expensive time of year. It is our hope that these specials will save our customers some money, and help them feel more secure about their furnaces and pipes this season."
For each of these holiday specials, Bardi has issued heating coupons and plumbing coupons. Coupons must be presented at the time of service.
About Bardi Heating, Cooling & Plumbing:
Bardi Heating, Cooling and Plumbing is a family-owned HVAC and plumbing company in Atlanta. Founded in 1989 by Alex and Susan Bardi, the company has been providing the Atlanta area with quality HVAC services for over 25 years. Bardi also offers plumbing repairs and services, and is home to an experienced management team as well as an outstanding team of NATE certified technicians, whose number one priority is to keep their customers satisfied by "always, always, always doing the right thing." Bardi provides free electronics pick-up and recycling on all service calls benefiting Nobis Works. For more information about energy efficient HVAC products, visit http://bardi.com or call 770-263-5355.