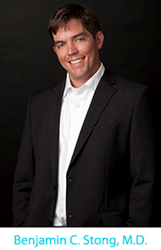 We are excited to offer such a breakthrough treatment to patients who want to reduce their double chin without surgery... Benjamin C. Stong, MD
Atlanta, GA (PRWEB) May 04, 2015
Dr. Benjamin Stong of Kalos Facial Plastic Surgery, LLC in Atlanta, Georgia proudly offers the latest non-surgical double-chin eliminator. Dr. Stong is double board certified and the only facial plastic surgeon in Atlanta to offer Kybella treatments. The FDA recently approved the Kybella drug to be injected specifically under the chin, promising to safely dissolve fat deposits and reduce a 'double-chin' appearance.
Before Kybella, patients who sought immediate solutions for their double chin were forced to choose between cutting the fat out or sucking it out. Now, patients in Atlanta can take advantage of a simple in-office and non-invasive procedure using Kybella to address their concerns.
According to its manufacturer Kythera Biopharmaceuticals, "Kybella is a naturally occurring molecule in the body that aids in the breakdown of dietary fat." The Kybella drug is essentially injected into the submental area (fat below the chin), which allows this bio acid to rupture the fat cell membranes and permanently destroy unwanted chin fat.
"We are excited to offer such a breakthrough treatment to patients who want to reduce their double chin without surgery. It is our hope that Kybella will be an effective, yet convenient solution that can profoundly improve the way patients look and feel about themselves, " says Dr. Stong.
Patients can expect mild side effects and no required downtime. There may be some minimal bruising and swelling but bandages are not needed. Depending on the patient and the desired goals, repeated Kybella injections may be required periodically for optimal results. Patients can receive up to 50 injections in a single treatment, with up to six single treatments administered no less than one month apart.
About Dr. Benjamin Stong and Kalos Facial Plastic Surgery, LLC:
Owner and facial plastic surgeon, Dr. Benjamin Stong is dual board certified in Head and Neck Surgery and Facial Plastic and Reconstructive Surgery. He completed his fellowship under one of the most nationally renowned plastic surgeons, Dr. Andrew Jacono in New York. He has combined such a reputable level of training with his own proven experience and talent to bring patients of Atlanta outstanding results in plastic surgery. Kalos Facial Plastic and Reconstructive Surgery specializes in providing the most advanced techniques in facial plastic surgery and other cosmetic services. If you would like to get more information about hair restoration offered by Kalos Facial Plastic Surgery, LLC, please call their Atlanta office at (404) 963-6665 or visit their website at http://www.kalos-plasticsurgery.com.