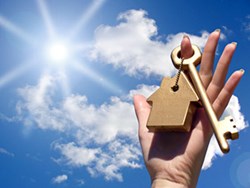 An ounce of prevention is worth a pound of cure—and this is true when it comes to protecting your property during winter months. ~Eugene Rozhavsky, J&M Locksmith
Atlanta, GA (PRWEB) January 22, 2014
Metro Atlanta has experienced uncharacteristic single-digit temperatures this year. To prepare local consumers to get through the winter season when uncommon weather occurs, Atlanta locksmith J&M Locksmith offers 3 security tips to contend with effects of the winter months.
"An ounce of prevention is worth a pound of cure—and this is true when it comes to protecting your property during winter months" said Eugene Rozhavsky, J&M Locksmith owner. "Freezing temperatures and freezing rain create conditions perfect for frozen locks. Here are some tips to help prevent or fix home and car locks in the case of freezing."
1. To prevent door deadbolts from freezing in extremely low temperatures, lubricate door locks using Houdini Lock Lube.
2. If door locks are frozen, warm the key or use a lock de-icer. Never combine heat with lock de-icer as it is flammable. Don't pour warm water on the car as it may re-freeze, making the situation worse; warming your key first will help heat up the lock from the inside.
3. If locks have frozen and you have difficulty, call a local locksmith who will have a good de-icer and lubricant or warming method to open your lock and get you going.
Specializing in commercial locksmith accounts for property management companies and realtors, Brookhaven-based J&M offers a spectrum of services from basic lock installation to complex security installations and projects, including a lifetime guarantee on all hardware installed and a 90-day guarantee on labor.
The company's residential locksmith service provides lockout services, key extraction (from lock), high security lock installation, keyless entry locks, mailbox lock replacement and more.
J&M also offers an efficient automobile lockout service for vehicles of all makes and models including: rekeying of car locks, car lock replacements, key manufacturing, extraction of broken keys, replacing of lost transponders and changing ignitions.
To make an appointment or for more information on J&M Locksmith services and rates, contact Eugene or Maike at 404-824-3777 or email jmrlocksmith(at)gmail(dot)com. Also, visit us online at http://www.locksmithatlga.com and join our Facebook community at http://www.facebook.com/pages/JM-Locksmith-Inc/1380904468827810 and on Twitter @JMlocksmith1.
About J&M Locksmith:
J&M Locksmith is the metropolitan Atlanta area's premier commercial, residential and automotive locksmith service.
Our highly skilled, professional technicians have the know-how to handle commercial projects, including basic lock installation and changes to complex security installations and projects; residential lockout services, key extractions, high security lock installation, keyless entry locks, mailbox lock replacement and more; and fast, efficient car lockouts services in the metro Atlanta area for vehicles of all makes and models.
All J&M locksmiths are experienced, accountable professionals who have undergone formal training in the locksmith trade. As a local, family-owned business, J&M Locksmith takes great pride in being fair, honest and forthright with clients and in forging long-term business relationships.