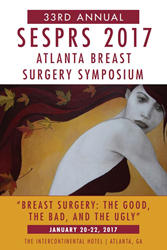 Atlanta, Georgia (PRWEB) January 19, 2017
Each year, the Southeastern Society of Plastic and Reconstructive Surgeons hosts the Atlanta Breast Surgery Symposium, a conference where hundreds of surgeons from over fifteen different countries come together to share and learn the latest advancements in breast surgery. Covering topics from cosmetic breast augmentation to breast reconstruction for breast cancer patients, teaching these surgical techniques which have proven to be life-changing for countless patients.
Having participated in this conference for decades, Atlanta plastic surgeon Dr. Franklyn Elliott is honored to be once again taking a strong leadership role this year by presenting a narrated video of the scarless latissimus technique for post mastectomy breast reconstruction, along with giving two lectures and moderating several panels and discussions. In addition, he will be introducing the speaker for the Honorary Hartrampf Lecture, which pays tribute to retired Dr. Carl Hartrampf, Dr. Elliott's former senior partner at Atlanta Plastic Surgery, founder of the Atlanta Breast Surgery Symposium, and creator of the TRAM Flap. The TRAM Flap is one of the most advanced and successful breast reconstruction techniques used throughout the country, which Dr. Elliott helped to perfect.
At this year's symposium, Dr. Franklyn Elliott will have the honor of presenting a video of the scarless latissimus dorsi, a technique he developed for breast reconstruction, in which a muscle from the back is used to support a breast implant and offer a natural-looking result but without leaving a scar on the back. "The scarless latissimus dorsi technique has shown to be highly successful for a variety of breast reconstruction patients who want a natural-looking result with as little synthetic material as possible," Dr. Elliott says, "and I am honored to be able to demonstrate the procedure in this symposium." As Dr. Elliott presents the 20-minute video, it will be broadcast in real time to the conference attendees, who can also ask questions and hear Dr. Elliott's insight throughout the procedure.
In addition to presenting the scarless latissimus dorsi video at this year's Atlanta Breast Surgery Symposium, Dr. Franklyn Elliott will also be giving two lectures to offer his experience and expertise to other surgeons. One lecture will be on the pedicled TRAM flap, a specialized breast reconstruction method which rebuilds the breast area using muscle, fat, blood vessels, and potentially skin from the abdomen. The other lecture is on alternate measures for supporting and securing a breast implant for a breast reconstruction patient, rather than using a synthetic material called acellular dermal matrix.
As a board-certified plastic surgeon who specializes in breast reconstruction, Dr. Franklyn Elliott has a passion for helping women who have battled or are still battling breast cancer. Conferences like the Atlanta Breast Surgery Symposium are an opportunity for him to both keep up with the latest advancements in the field as well as contribute to the overall improvement in care for breast patients by enhancing the knowledge of other surgeons throughout the world.
ABOUT L. FRANKLYN ELLIOTT, MD
Board certified by both the American Board of Plastic Surgery and the American Board of Surgery since 1984, Dr. Franklyn Elliott has worked at Atlanta Plastic Surgery for 29 years and is well-known for his contributions to the fields of cosmetic and reconstructive surgery. In addition to performing thousands of highly successful procedures such as liposuction, breast augmentation, face lifts, breast reconstruction, and more, Dr. Elliott is a teacher at heart. He has written numerous plastic and reconstructive surgery articles to teach his techniques to others, in addition to speaking at conferences and meetings both in the US and throughout the globe, as well as playing a core role lecturing and directing at the annual Atlanta Breast Surgery Symposium since 1988. He also served as the president of the Southeastern Society of Plastic and Reconstructive Surgeons in 2001, and he is a current member of the American Society of Aesthetic Plastic Surgeons and the International Society of Aesthetic Plastic Surgeons as well as numerous other medical organizations. In addition to his many organization memberships, Dr. Elliott has been identified by his peers as one the country's Top Doctors listed by Castle Connolly, an independent organization which surveys physicians in numerous specialties about the fellow doctors they admire.