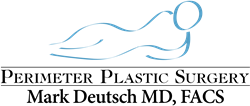 It's no surprise that cosmetic injectables have become increasingly popular. These treatments are minimally invasive and require no downtime, yet they produce a more youthful-looking appearance, often with dramatic results
Atlanta, Georgia (PRWEB) February 04, 2016
In recent years, plastic surgeons have seen an increasing number of their patients turning to cosmetic injectables as a quick and easy way to renew and revitalize their appearance. Board certified plastic surgeon, Mark Deutsch, MD, has observed this trend among Atlanta and Fayetteville, Georgia, patients at his practice, Perimeter Plastic Surgery. Because injectables are so popular among his clients, Dr. Deutsch is offering specials on Botox®, Juvederm® and Juvederm Voluma™ XC treatments from now until February 29, 2016.
With a theme for the promotion of "Diamonds are forever (and so is your body)," Perimeter Plastic Surgery is offering $100 off all injectables. If a patient brings a friend to the appointment, each will get an additional $50 discount, for a savings of $150 per person.
"It's no surprise that cosmetic injectables have become increasingly popular," says Dr. Deutsch. "These treatments are minimally invasive and require no downtime, yet they produce a more youthful-looking appearance, often with dramatic results."
As a cosmetic form of the botulinum toxin, Botox® is a purified protein injectable filler that is FDA-approved to temporarily reduce or eliminate frown lines, forehead creases, crow's feet near the eyes and thick bands in the neck. Botox® works by relaxing the muscles that cause wrinkle formation. Most Botox® treatments last for three to six months.
Juvederm® is a dermal filler made from hyaluronic acid, and is used to soften the appearance of laugh lines, frown lines, marionette lines and crow's feet by adding volume to the face. It can be used to add definition to the lip border as well. In addition, Perimeter Plastic Surgery also carries Juvederm Voluma™ XC, an injectable gel designed to add volume and contour to the cheek area. Results with Juvederm® dermal fillers can last up to one year.
In addition, Perimeter Plastic Surgery now carries a new product by Teoxane Laboratories, Teosyal® RHA, established in Europe and marketed as a "liquid filler." This amazing hyaluronic acid-based filler was recently FDA approved in the US, and can be used to smooth out wrinkles, reduce bags and circles under the eyes, diminish the look of acne scars, and more. Retail cost is $190 and one bottle lasts up to 10 weeks. All injectables are performed in the office by Dr. Deutsch. As with any procedure, he recommends that anyone considering an injectable treatment visit his office for a consultation before scheduling a treatment. "This allows me to explain exactly what each treatment can do, and helps the patient decide on which product or combination of injectables will best meet his or her aesthetic goals," says Dr. Deutsch. The only catch: appointments do fill up quickly. To schedule a consultation with Dr. Deutsch, or for more information about the "Diamonds are Forever" promotion, please call Perimeter Plastic Surgery at 404-255-0886.
About Perimeter Plastic Surgery:
Dr. Mark Deutsch is the founder of Perimeter Plastic Surgery and a top plastic surgeon in Atlanta. He is board certified by the American Board of Plastic Surgery, and performs a variety of cosmetic and reconstructive surgeries. In addition to his work in the United States, he travels annually to South America to perform volunteer procedures. For more information about Dr. Deutsch and Perimeter Plastic Surgery, please visit https://perimeterplasticsurgery.com.