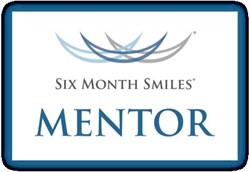 Many of our patients here at Pure Dental Health choose Six Month Smiles® to straighten their teeth before a wedding, to improve their career or to feel more confident about their smiles. - Dr. Justin Scott
Atlanta, GA (PRWEB) December 04, 2013
Dr. Justin Scott, founder of Pure Dental Health in Atlanta, Georgia, is proud to be Georgia's one and only 5-Star Six Month Smiles® provider and Clinical Mentor. The Clinical Mentor designation means that Six Month Smiles® has specially selected Dr. Scott and recognized his excellence in providing the highest quality care to patients. This recognition places him among an elite group of dental specialists nationwide who have completed a large number of Six Month Smiles® cases with outstanding results.
Six Month Smiles® is an innovative orthodontic system that is geared toward adults who want to straighten their smiles in a short period of time. It works by using clear braces to gently move the teeth into the desired position, in an average of just six months. Six Month Smiles® focuses primarily on the teeth in the front of the mouth that show when you smile. It is not used to make major bite alterations. Six Month Smiles® is typically less expensive than traditional braces, aligner therapy or veneers. For these reasons, this clear and faster alternative to traditional braces has revolutionized orthodontic treatment and provides a good solution for busy and working professionals. This advanced system is now being offered by dental practices throughout the United States.
According to Dr. Justin Scott, "Many of our patients here at Pure Dental Health choose Six Month Smiles® to straighten their teeth before a wedding, to improve their career or to feel more confident about their smiles. We are excited to offer this important service to the residents of the greater Atlanta metropolitan area. With Six Month Smiles®, the outcomes are exceptional, and helping individuals to look and feel their best is one of the main objectives of our cosmetic and restorative dental practice."
About Pure Dental Health:
Pure Dental Health is a comprehensive Atlanta dental practice located in Buckhead. Their dental practice offers a full range of preventive, general, restorative and cosmetic dental services as well as implants dentistry. If you would like more information about Pure Dental Health, please visit their website at http://www.puredentalhealth.com or call their office 678-666-3642.