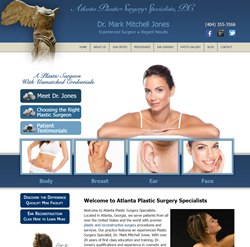 We are thrilled to offer ThermiRF treatments and finally give women a way to turn back the hands of time in virtually every area of their body using a painless and no downtime procedure, says Dr. Jones
Atlanta, GA (PRWEB) November 07, 2016
Dr. Mark Mitchell Jones of Atlanta Plastic Surgery Specialists, P.C. is a distinguished plastic surgeon in Atlanta, Georgia who recognizes the demand for dramatic cosmetic improvements without major surgery. In doing so, he has invested in the latest thermal technology system that gives patients a minimally to non-invasive solution to erase facial wrinkles, eliminate sagging neck and arm skin, improve cellulite and even provide vaginal rejuvenation. These represent common concerns that women encounter as they age. Now, using ThermiRF Treatments, women can undergo a painless procedure that uses radio frequency to heat the targeted areas of the body and tighten the tissues and build collagen in the skin. Many patients report the procedure feels like a warm massage and there is no downtime or recovery following a treatment session.
ThermiRF Treatments includes a variety of distinct devices designed to help patients achieve their specific goals. Dr. Jones offers ThermiSmooth, ThermiTight and ThermiVia at his Atlanta practice. ThermiSmooth is a handheld device used to revitalize the neck, mouth, cheeks and eyes. Its dermal heating works to rebuild lost collagen and temporarily improve cellulite on the body. ThermiTight requires local anesthesia and produces dramatic results in shrinking sagging skin in the neck and behind the arms, a common complaint of aging women. Finally, ThermiVia is an innovative technology that is designed for vaginal rejuvenation. By tightening the vaginal tissues, women can get relief from urinary leakage and intimacy problems that frequently occur after childbearing years.
"We are thrilled to offer ThermiRF treatments and finally give women a way to turn back the hands of time in virtually every area of their body using a painless and no downtime procedure," says Dr. Jones.
About Dr. Mark Mitchell Jones and Atlanta Plastic Surgery Specialists, P.C.:
At Atlanta Plastic Surgery Specialists, P.C., patients can expect elegant results delivered by an experienced surgeon. They offer a wide variety of advanced plastic and reconstructive services, ranging from facelifts and other aesthetic procedures to the correction of complex genetic deformities. In addition, they offer a vast array of non-surgical procedures as well as skin care products and spa treatments. Dr. Jones considers each individual as a beautiful work of art and creates extraordinary results with respect to both aesthetics and function. If you would like to get more information about the ThermiRF Treatments offered by Dr. Mark Mitchell Jones, please call their Atlanta office at (404) 355-3566 or visit their website at atlantaplastic.com
Prepared by Find Local Company