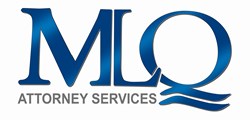 There is no better way to gauge the quality of service and performance than to hear feedback from a company's existing clients.
Atlanta, Georgia (PRWEB) January 14, 2014
Atlanta-based MLQ Attorney Services recently launched a brand new website at http://www.mlqattorneyservices.com. The website incorporates a number of new features designed to enhance the visitor experience of both existing and potential clients. These include completely redesigned online order forms, detailed information about the company's services, client testimonials, and links to social media properties.
President and CEO, Lever Stewart, explained that part of the company's motivation behind the new site's creation was to make it very easy for clients to do business with MLQ. "We've always embraced technology as a way to create advantages for our clients," said Stewart. "Our new website provides many features that will increase the speed and efficiency with which we handle client orders. That's a win for everyone."
The website also offers a wealth of information to potential clients, including testimonials from attorneys and paralegals that have used MLQ's services for many years. "There is no better way to gauge the quality of service and performance than to hear feedback from a company's existing clients," said Stewart.
MLQ's management team also is confident the new website will help it achieve another key objective, which is to ensure attorneys and their staff are familiar with all areas in which the company can help with their cases. To accomplish this, MLQ created web pages about its extensive suite of services, including service of process, asset searches, skip tracing, court reporting, licensed private investigation, corporate and individual background reports, secretary of state filings, UCC lien and judgment searches, and real estate title abstract services. "Because of our long history of providing service of process in Atlanta and throughout Georgia, many clients are unaware that we do much more." Added Stewart, "Our new website will help them think of us when they need the same high-quality service and competitive pricing in other areas."
About MLQ Attorney Services: Since 1982, MLQ has been the leader in service of process and legal-related support services across the state of Georgia. The company has been named the best process server in Georgia by The Daily Report in each of the past 2 years, and continues to be the "go to" company for law firms, in-house counsel, and banks in need of fast, efficient, and affordable legal support services.