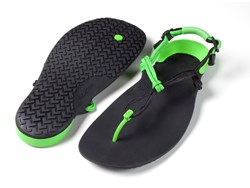 Boulder, CO (PRWEB) August 13, 2013
The upcoming Atlanta Shoe Market will be host to one of the companies that was featured on the ABC show, Shark Tank. Xero Shoes, makers of ultra-light recreation performance sandals, pitched their business to the Sharks on the top-rated television show on February 1st and again on May 31st. While Kevin O'Leary offered the company $400,000, co-founders and husband and wife team, Steven Sashen and Lena Phoenix, rejected the offer.
Xero Shoes will be in Booth 23 in Atlanta, August 14-16th, following a successful launch of three new products at the recent Outdoor Retailer show.
"Kevin wanted 50% of our company, which wasn't going to happen," says CEO Sashen, "But just being on Shark Tank dramatically accelerated the growth of our company." After taping the show, Xero Shoes brought on Dennis Driscoll as Chief Development Officer. Driscoll previously served as head of global product design for Crocs and Converse, and co-founded Avia Footwear which sold to Reebok.
With Driscoll's development expertise and experience, Xero Shoes is launching 3 new products that expand the company's natural movement product line.
Of the new Sensori Venture and Sensori Cloud, Sashen says, "Flip flops should be afraid… VERY afraid." Both products are inspired by the tire sandals worn by the Tarahumara in Mexico, but feature modern, technical components, and stylish accents.
Co-founder, Lena Phoenix adds, "We don't know another sandal that can perform as well as ours, whether you're running a 100 mile trail ultra marathon, or going out for a night on the town."
What excites the company about Sensori Venture and Sensori Cloud is that they are retail-friendly products. Says Sashen, "In the last 3.5 years, we've sold do-it-yourself sandal kits to over 45,000 people. But we know that many potential customers are intimidated by making their own footwear, even if it only takes a few minutes." The new products have a patent-pending design that lets users simply take the sandals off the shelf, slip them on their feet, cinch the lacing, and be ready to enjoy.
At Outdoor Retailer, retailers trying the Sensori Cloud were almost always overheard saying, "It feels like I'm not wearing anything at all." Yet, the Cloud can handle rough trails with comfort. True to their tire sandal heritage, Xero Shoes' products come with a 5,000 mile warranty.
ABOUT:
Feel The World, Inc. of Boulder, CO, manufactures Xero Shoes®, a high-tech upgrade on the traditional huaraches running sandal of the Tarahumara Indians of Mexico. Durable, stylish and affordable — Xero Shoes supply the fun and benefits of being barefoot, but with a layer of protection. Feel The World, Inc. launched in December 2009. To date, over 45,000 customers, ages 1 to 91, in more than 92 countries wear Xero Shoes for walking, hiking, yoga and gym-going, Crossfit, kayaking, jogging, and even running hundred-mile ultra marathons.