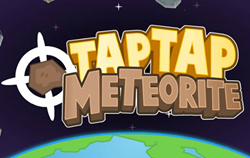 My advice for SAE students who are interested in gaming is to take advantage of the access that they have to their school's studios, because they're truly some of the best that I've ever worked in.
Atlanta, GA (PRWEB) October 29, 2014
2014 SAE Atlanta Audio Technology Program Graduate Tony Voelkl did the sound design for Tap Tap Meteorite, a top rated video game that's available for free download in the Google Play store. Game review blog Shootzngiggles describes Tap Tap Meteorite as a "simple, elegant action game", and says that it "seems to understand the simple fun behind it more than most".
"The opportunity to work on Tap Tap Meteorite came about through the tech community site Reddit," says Voelkl. "I posted my sound design demo reel on their game development page, and a few days later the programmer and creator of the game emailed me and offered me the job. My goal was to create an audio experience that was memorable but not distracting or annoying, since gamers tend to play for hours and I didn't want to hurt their ears."
Voelkl is a native of Dayton, Ohio and a 2013 graduate of Carroll High School. Growing up, he had a passion for music, and was mostly a self-taught guitarist and songwriter. His other primary interest was gaming, and his long term goal was to combine these two areas as a producer of music and sound for video games.
"When I decided that I wanted to pursue an education in audio engineering with an eventual focus on gaming, I looked at a number of audio engineering programs at different schools," says Voelkl. "I eventually enrolled at SAE's Atlanta campus in 2013 because of the curriculum, the facilities, and the opportunity to work on state-of-the-art equipment and learn from instructors who are currently working in the industry."
Prior to his SAE education, Voelkl was "turning knobs and tweaking things with no idea of what they did". After earning his Audio Technology Program diploma from SAE, he had deeper understanding of the art and science and audio engineering, which is helping him to achieve specific sounds for his design work.
Currently, Voelkl is pursuing a B.S. degree in computer science at Wright State University in Dayton, OH. He's also working on three video game projects, one of which is called Pigment and will be released on the gaming site Steam.
"My advice for SAE students who are interested in working in sound design for the gaming industry is to take advantage of the access that they have to their school's studios, because they're truly some of the best that I've ever worked in," says Voelkl. "Also, start building your credit list and demo reel as soon as possible by networking on Reddit and Newgrounds and introducing yourself to programmers who need sound designers for their games. A great way to show off your work is to do sound re-designs by taking a scene from a well-known game or movie and replacing the audio with an entirely new soundtrack that you've created. Finally, build relationships with the staff at SAE because they're in the industry right now, and they could possibly have connections to help jumpstart your career."
About SAE:
SAE Institute provides aspiring creative media professionals with a foundation of practical theory and valuable hands-on training in their chosen areas of concentration. Under the guidance of our faculty, which is comprised of working industry professionals, students gain the essential experience they need for entry-level jobs in the entertainment business. Our students are supported in their job searches by SAE's international network of alumni, many of whom are leaders in the music, film, game arts, and live performance arenas. We offer programs in audio technology across our seven US campuses, along with a music business program at select locations, all fully accredited and focused on preparing students for employment when they graduate. Bachelor's Degree programs in Animation, Audio, Film, Game Art & Graphic Design are available at the two locations of Ex'pression College, which is owned and operated by SAE Institute Group, Inc. SAE Institute Group, Inc. is a part of Navitas LTD. Learn more at USA.sae.edu.
About Navitas
Navitas is an Australian global education leader, providing pre-university and university programs, English language courses, migrant education and settlement services, creative media education, student recruitment, professional development, and corporate training services to more than 80,000 students across a network of over 100 colleges and campuses in 27 countries. Learn more at Navitas.com.