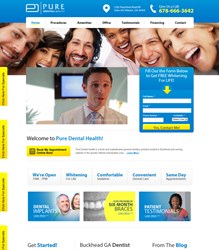 We hope our Saturday hours will make it easier and more convenient for our valued clients to get the dental care they need to achieve and maintain healthy teeth and gums and beautiful, fully functional smiles.

Dr. Justin Scott
Atlanta, GA (PRWEB) August 19, 2013
Pure Dental Health, a comprehensive and cosmetic dental practice located in Midtown Atlanta, is pleased to announce that they are now open on Saturdays from 8AM to 4PM. These extended hours make it easier and more convenient for busy parents and working professionals to get the dental care they need for themselves and their families.
With today's hectic lifestyle, the traditional dental office hours of Monday through Friday from 9AM to 5PM simply do not work for many people. In this competitive marketplace, many people are hesitant to schedule time away from work for dental appointments. In addition school, sports and other extra-curricular activities, make it extremely difficult for parents to schedule dental appointments for their children. As a result, many individuals and families are finding it harder and harder to get the dental care they need. This negatively affects patients in terms of their long-term dental health and negatively effects dental practices in terms of their bottom line.
As a result, forward thinking, customer-oriented dental practices like Pure Dental Health in Atlanta, Georgia are extending their hours during the week and offering Saturday appointments. Offering extended hours offers greater convenience to the residents of Atlanta and gives Pure Dental Health greater flexibility in scheduling and allows them more time to handle dental emergencies.
According to Pure Dental Health founder, Dr. Justin Scott, "Today's consumers demand greater flexibility and better customer service when it comes to dental care. With so many dental practices in the Atlanta area, offering extended hours during the week and Saturday appointments is just one of the ways we set ourselves apart from our competition. We hope our Saturday hours will make it easier and more convenient for our valued clients to get the dental care they need to achieve and maintain healthy teeth and gums and beautiful, fully functional smiles."
About Pure Dental Health:
Pure Dental Health is a comprehensive dental practice located in Atlanta between Midtown and Buckhead. Their practice offers a full range of preventive, general, restorative and cosmetic dental services including dental implants, six month braces, and veneers.
If you would like more information about Pure Dental Health, you can visit their website at http://www.puredentalhealth.com or call their office at 678-666-3642.