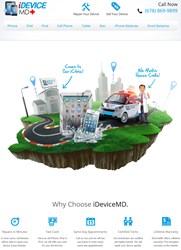 In most cases, iDeviceMD offers more than ten times the amount offered by the carrier, or more. - Dru Pio, President iDeviceMD
Atlanta, GA (PRWEB) August 13, 2013
iDeviceMD, an iPhone, iPad and iPod repair company with locations in the greater Atlanta metropolitan area, is pleased to announce their plans for the mobile purchase of iPhones including the iPhone 4, iPhone 4S and iPhone 5 from from consumers in Atlanta, Alpharetta, Roswell, Marietta and the surrounding areas. Consumers can now sell or trade an iPhone 4, iPhone 4S, or iPhone 5 by going online to http://www.iDeviceMD.com, find the value of their used iPhones and then call iDeviceMD at 678-869-9899 to schedule a pick up. A representative from iDeviceMD will then come to the home or business to pick up the iPhone within 24-hours. Once the iPhone has been tested at the iDeviceMD location, iDeviceMD will send the consumer a check or PayPal deposit within 48-hours. Or, if requested, iDeviceMD will make a donation to a favorite charity or school sports team.
The iPhone purchase program offers consumers who want to sell iPhones or trade iPhones an alternative to mailing their phones away to companies like Gazelle and waiting for their money. It also provides a better option than getting far less than the value of their used iPhones at the time of trade in from their service providers. iDeviceMD will match or beat the trade-in price set by the wireless carriers or the big box stores. In some cases, the wireless carriers will offer as little as $7 toward an upgrade if the screen on your iPhone is cracked. According to iDeviceMD President, Dru Pio- "In most cases, iDeviceMD offers more than ten times the amount offered by the carrier, or more."
According to Mr. Pio, "Many of our clients have an old iPhone 4 or iPhone 4s sitting around in their houses or offices. They can use their old iPhones to pay for the screen repair on their iPhone 5 or iPads or simply keep the money. Our mobile purchase program provides a great way for individuals and businesses to get their electronic devices repaired or to get some extra money for their used devices instead of allowing them to sit on the shelf and become worthless."
In a blog post on August 10th 2013, the Wall Street Journal owned blog – All Things D - reported that Apple will announce the newest version of the iPhone on September 10, 2013. Once this newer version has been formally released the value of your iPhone 4 or iPhone 5 may decline significantly. Therefore, consumers who want to take advantage of the iPhone purchase program will get more for their iPhone today than if they try to sell their old iPhone after September 10th.
About iDeviceMD:
iDeviceMD is an iPhone, iPad and iPod repair company with locations throughout the United States including locations in the greater Atlanta metropolitan area. They offer fast, reliable repair services for iPhones, iPads and other electronic devices. By offering same-day appointments and house or office calls, iDeviceMD makes it easier and more convenient for consumers to get their electronic devices repaired. iDeviceMD is also currently offering licensing programs throughout the greater Atlanta metropolitan area as well as the rest of the United States. The company plans on offering franchises in the near future. iDeviceMD is also currently hiring technicians to accommodate their tremendous growth.
If you would like to get more information about iDeviceMD, please go to their website at http://www.idevicemd.com or call their office at 678-869-9899.