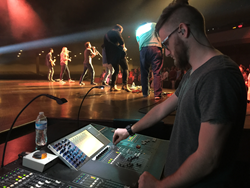 SAE's curriculum prepared me for what I'm doing now and for a number of other audio careers as well. I also think that SAE's amazing teachers gave me a competitive edge over other schools' grads.
Atlanta, GA (PRWEB) October 13, 2015
Joshua Wright, who graduated last week from SAE Institute Atlanta's Audio Technology Program, has been hired as a full time Audio Associate at First Baptist Church of Woodstock in Woodstock, GA. The church, one of the largest in the region, has 14,000 members and welcomes 7,000 congregants each week to its Sunday services.
"With a 2,500 seat room in our Chapel and a 7,500 seat room in our Worship Center, I have a lot of roles to fill," says Wright. "One week, I'll be Front of House, another week I'll be at the monitors, and sometimes I'll be in the studio for our live stream. I'm also in charge of audio every Wednesday for our student ministry. It can get hectic, but it's also exciting, challenging, and exactly what I want to be doing with my SAE education."
Wright grew up in Kennesaw, GA. His father had been a Christian rapper, and he instilled a love of hip hop in his son. Wright also developed a passion for playing the drums at a young age, and was especially intrigued by the process of recording drums in a studio.
He regularly attended services at West Ridge Church in Dallas, GA with his family, and found himself more interested in the sonic aspects of the service than the service itself. He volunteered to be a monitor engineer at the church when he was in 9th grade, and after graduating from Harrison High School in 2014, was hired as the church's part time Technical Coordinator.
Determined to further his knowledge of live sound, Wright investigated the available choices of audio engineering colleges in the Southeast. While researching the many options, Wright discovered SAE's Atlanta campus, heard good things about it from fellow engineers, and decided to enroll in the fall of 2014.
"SAE's curriculum is absolutely fantastic," says Wright. "It prepared me for what I'm doing now and for a number of other audio careers as well. I also think that SAE's amazing teachers gave me a competitive edge over other schools' grads. The faculty members all have impressive backgrounds and bring out the best in their students."
Wright believes that hard work is the first step to building a career as an audio technology professional.
"You absolutely cannot go into the entertainment industry thinking that it will be easy," says Wright. "Getting hired requires dedication to your craft, networking with your peers, and putting in long hours. I worked in SAE's studios on my class projects until midnight almost every night because I knew that if I put in the effort, the payoff would follow – and it absolutely did."
About SAE
SAE Institute provides aspiring creative media professionals with a foundation of practical theory and valuable hands-on training in their chosen areas of concentration. Under the guidance of our faculty, which is comprised of working industry professionals, students gain the essential experience they need for entry-level jobs in the entertainment business. Our students are supported in their job searches by SAE's international network of alumni, many of whom are leaders in the music, film, game arts, and live performance arenas. We offer programs in audio technology across our seven US campuses, along with a music business program at select locations, all fully accredited and focused on preparing students for employment when they graduate. Bachelor's Degree programs in Animation, Audio, Film, Game Art & Graphic Design are available at the two locations of Ex'pression College, which is owned and operated by SAE Institute Group, Inc. SAE Institute Group, Inc. is a part of Navitas LTD. Learn more at USA.sae.edu.
About Navitas
Navitas is an Australian global education leader, providing pre-university and university programs, English language courses, migrant education and settlement services, creative media education, student recruitment, professional development, and corporate training services to more than 80,000 students across a network of over 100 colleges and campuses in 27 countries. Learn more at Navitas.com.