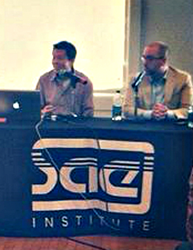 Our weekly presentations by leaders in the industry provide our students with valuable real world knowledge, excellent networking opportunities, and professional development to help make them career-ready once they graduate.
Atlanta, GA (PRWEB) December 01, 2014
Phil Tan and Miles Walker, both of whom are winners of multiple Grammy awards for their engineering and mixing work, recently met with students at SAE Institute's Atlanta campus. They discussed the current state of the music industry, and how changes in studio technology have affected their recording and mixing techniques.
"Phil and I covered a lot of the technical details of mixing and tracking records, but we mostly focused on answering the students' questions," says Walker, who's a graduate of Boston's Berklee College of Music. "I find that SAE students are on top of their game, and very focused on getting the most out of their concentrated curriculum, which packs a lot of information into a short time frame. The questions that they asked showed that they know their stuff."
Walker has won Grammys for his engineering work with Beyoncé, Rihanna, and Usher. He has also worked as an engineer on records for Katy Perry, Britney Spears, and Wiz Khalifa. Tan, a graduate of Full Sail University in Winter Park, FL, has won Grammys for his work as a mix engineer for Mariah Carey, Ludacris, and Rihanna. He has mixed and/or recorded 26 singles that have reached Number One on Billboard's Hot 100 chart, and 16 singles that have reached Number One on the UK Singles Chart.
"My current assistant, Daniela Rivera, is a SAE grad," says Tan, who does his mixing work in his studio The Ninja Beat Club. "Her ability to deliver exactly what I've needed over the past three years is validation of the quality of SAE's Audio Technology Program."
Walker's recent projects include mixes for T.I., Betty Who, Australian artist Guy Sebastian, Rich Gang, and Young Thug. Tan has been busy with mixes for Conor Maynard, k-os, Rose Gray, JoJo, Katy Tiz, Kesington Kross, Polyna, Bleona Qereti, Ty$, and newcomer Hallie Jackson.
"With SAE Atlanta's weekly seminars, we introduce prominent producers, engineers, mixers, and music business leaders to our Audio Technology Students," says SAE Atlanta Associate Director of Career Services Brad McDonald. "These presentations and workshops provide students with valuable real world knowledge, excellent networking opportunities, and professional development to help make them career-ready once they graduate."
About SAE:
SAE Institute provides aspiring creative media professionals with a foundation of practical theory and valuable hands-on training in their chosen areas of concentration. Under the guidance of our faculty, which is comprised of working industry professionals, students gain the essential experience they need for entry-level jobs in the entertainment business. Our students are supported in their job searches by SAE's international network of alumni, many of whom are leaders in the music, film, game arts, and live performance arenas. We offer programs in audio technology across our seven US campuses, along with a music business program at select locations, all fully accredited and focused on preparing students for employment when they graduate. Bachelor's Degree programs in Animation, Audio, Film, Game Art & Graphic Design are available at the two locations of Ex'pression College, which is owned and operated by SAE Institute Group, Inc. SAE Institute Group, Inc. is a part of Navitas LTD. Learn more at USA.sae.edu.
About Navitas:
Navitas is an Australian global education leader, providing pre-university and university programs, English language courses, migrant education and settlement services, creative media education, student recruitment, professional development, and corporate training services to more than 80,000 students across a network of over 100 colleges and campuses in 27 countries. Learn more at Navitas.com.