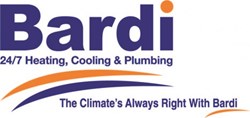 The whole day was a huge celebration. There was great music and we met a lot of new people.
Atlanta, GA (PRWEB) September 06, 2013
Atlanta air conditioning specialists Bardi Heating and Air attracted numerous fans and potential customers to its booth at the WFSH-FM Radio Celebrate Freedom Atlanta event on Labor Day weekend. The booth featured a DJ playing Christian tunes, ice pops and a dunk tank, popular with both adults and children at the annual event. Bardi also held a raffle for a grand prize of a LENNOX air conditioner or a children's party for 15. Participants also had the opportunity to play a round of "Potty Pong" and win prizes such as gift certificates to spas and restaurants.
"We all had so much fun at this event," said President Alex Bardi. "The whole day was a huge celebration. There was great music and we met a lot of new people. We would hope that many of them could be future customers, but just being able to celebrate the holiday with people in the community made the whole day worth it. The dunk tank was a huge hit—the kids really enjoyed it!"
This year's Labor Day event was the sixth annual Celebrate Freedom Atlanta event, featuring performances by Switchfoot, Third Day, Laura Story, Capital Kings and Royal Taylor. The one-day festival, sponsored by the popular Christian radio station, is held each year around Labor Day weekend, and has been held at the Jim R. Miller Park for the last four years.
Bardi Heating and Air is a family-owned HVAC company in Atlanta. Founded in 1989 by Alex and Susan Bardi, the company has provided the Atlanta area with quality HVAC services for almost 25 years. Bardi is home to an experienced management team as well as an outstanding team of NATE certified technicians, whose number one priority is to keep their customers satisfied by "always, always, always doing the right thing." For more information, please visit http://bardi.com.