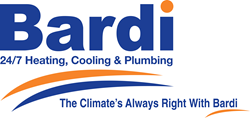 Everyone who enters will be a winner of some kind. Even if your air conditioner isn't the oldest one in Atlanta, all qualifying entrants will receive either $50 in Bardi Bucks or $500 off a new, energy-efficient system from Bardi
Atlanta, Georgia (PRWEB) July 16, 2015
Bardi Heating, Cooling and Plumbing is sponsoring a contest to find the oldest working air conditioner in the Atlanta area. Bardi will award the owner of the oldest functioning air conditioner with a $5000 energy-efficient Lennox system.
To qualify, the air conditioner must be functioning properly and be at least 10 years old. The contest is open to residents of the Clayton, Cobb, Coweta, DeKalb, Douglas, Fayette, Fulton, Gwinnett and Henry Counties, which comprise the Atlanta Metropolitan area. Entries must be received by 5 p.m. on August 31, 2015.
Why hold a contest like this? "The average lifespan of an air conditioner is between 10 and 12 years. Any older than that and they don't work very well anymore," notes Adam Bardi, residential service and sales manager for Bardi Heating, Cooling & Plumbing. Furthermore, with improving technology, air conditioners have gotten a lot more efficient in recent years. According to industry experts, air conditioning systems on the market today are up to 40 percent more efficient than the models manufactured just a decade ago.
"This contest is a way to help out a family by providing them with a better air conditioner, and educating customers about how the energy savings from a newer, more efficient air conditioner will more than make up for the cost of the new system," Bardi says.
Homeowners can enter the contest by going to Bardi.com/contest and filling out the entry form online. Contestants will need to enter the make, model and age of their air conditioners (this information is stated on the nameplate, which is usually on the back of an air conditioner unit), along with their contact information (name, email address, telephone number and mailing address).
The winner will be notified by a Bardi representative and announced on Bardi's website and Facebook page, on or before September 15, 2015.
Of course, "everyone who enters will be a winner of some kind," Bardi adds. "Even if your air conditioner isn't the oldest one in Atlanta, all qualifying entrants will receive either $50 in Bardi Bucks or $500 off a new, energy-efficient system from Bardi."
About Bardi Heating, Cooling and Plumbing:
Bardi Heating, Cooling and Plumbing is a family-owned HVAC and plumbing company in Atlanta. Founded in 1989 by Alex and Susan Bardi, the company has been providing the Atlanta area with quality HVAC services for over 25 years. Bardi also offers gas hearth and patio services, which include the installation, repair and maintenance of gas fireplaces, outdoor gas kitchens, outdoor gas grills, outdoor gas lights and outdoor gas fire pits. Bardi is home to an experienced management team as well as an outstanding team of NATE certified technicians, whose number one priority is to keep their customers satisfied by "always, always, always doing the right thing." Bardi provides free electronics pick-up and recycling on all service calls benefiting Nobis Works. For more information about energy efficient HVAC products, visit http://bardi.com or call 404-410-6643.