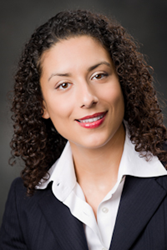 It was very nice to see how far the University and campus had come since I finished my education.
Atlanta, Georgia (PRWEB) May 04, 2015
Atlanta attorney Maggie Heim recently spoke to undergraduate students at Kennesaw State University's Coles College of Business. A KSU alumnus, Heim returned to her alma mater at the invitation of Professor Cristen Dutcher. She spoke to students about the importance of implementing best practices for negotiating and executing contracts in a business setting, as well as in their personal financial dealings.
"In our business litigation practice, clients often hire us to resolve serious legal problems that could have been avoided by drafting the contract differently or performing due diligence before signing the contract," said Heim. "The best time to learn about the many ways to protect yourself and your business is before you negotiate and sign the contract."
Heim's lecture covered a number of important topics surrounding business contracts, including the impact of trade names, merger clauses, deadlines, penalties and legal remedies for breach. (To watch an excerpt of the presentation, click here.) Students were very interested in her real-world examples of cases where litigants were forced into expensive court battles due to a misstep in planning, negotiating, or executing contracts.
Heim appreciated the opportunity to return to KSU, a place that influenced her to pursue a legal career. "It was very nice to see how far the University and campus had come since I finished my education," said Heim. "I hope students found the information helpful and utilize it to their advantages throughout their careers."
About Schklar & Heim, LLC: Schklar & Heim, LLC is an AV Rated law firm based in Atlanta, Georgia. The firm is nationally recognized for obtaining superior results in the most complex litigation matters, while providing unmatched attention to detail and client service. The firm routinely handles cases involving business litigation, legal malpractice, securities litigation, estate litigation, construction disputes, and intellectual property litigation.