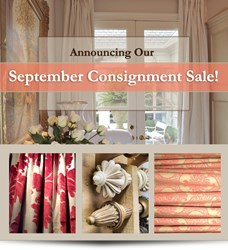 'We have a large consignment selection, so there are a lot of very high-end options available at a moderate price point.'
Atlanta, Ga (PRWEB) August 28, 2013
The Curtain Exchange, an Atlanta window treatment store, has announced that it is holding a month-long sale in September on its extensive selection of high-end consignment drapery and unique drapery hardware. The details of the sale are as follow: the store's entire selection of high-end consignment drapery will be 10 percent off, and when customers purchase consignment curtains with drapery hardware, they will receive 15 percent off their purchase.
"We have a beautiful selection of consignment drapery," says The Curtain Exchange of Atlanta co-owner Jim Waddell. "This is a wonderful opportunity for our customers to update their guest rooms, or for students to get their apartments ready for the school year. We have a large consignment selection, so there are a lot of very high-end options available at a moderate price point."
The Curtain Exchange of Atlanta has one of the largest selections of consignment designer curtains in the metro area. The store's wide selection of consignment items allows the owners to offer their customers designer window treatment at an affordable price—consignment curtains at The Curtain Exchange are priced beginning at around $300 a pair, making them a more affordable option for those shopping for high-end window treatments.
The Curtain Exchange offers custom drapery, luxury designer consignment curtains and many other window treatment options in Atlanta, Georgia. In addition to a constantly updated line of fabrics that may be selected from to create custom draperies, The Curtain Exchange also carries a distinctive selection of ready-to-buy curtain styles and offers drapery hardware and installation. The store's in-house consultants are happy to work with guests in-store or at home, and customers are encouraged to take advantage of The Curtain Exchange's 48-hour take home approval process. All of The Curtain Exchange's draperies are made in the USA. For more information or to schedule an in-home consultation, please visit The Curtain Exchange online or on Facebook for design ideas and store updates.