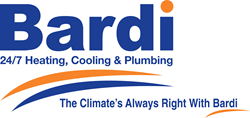 When there are holes in the ducts or cracks in the seals, cool air can leak out and be replaced by hot and humid air from the attic or under the house.
Atlanta, GA (PRWEB) May 16, 2014
The weather in Atlanta is quickly heating up and homeowners are turning on their air conditioners for the first time this season. Bardi Heating, Cooling and Plumbing provides AC inspections in Atlanta and is currently offering homeowners 10% off duct sealing services to improve air flow and reduce energy consumption and cooling costs. The discount is available until the end of May.
Air ducts comprise the ventilation in a home's forced-air HVAC system. Holes, poorly connected ducts or ducts that are improperly sealed can cause cool air to leak out or, even worse, can suck in hot, dirty air from attics and crawl spaces. This forces the air conditioner unit to work harder and run longer, which increases a homeowner's utility bills. Leaking ducts also introduce unfiltered humid air in to the home which can exacerbate allergies and cause elevated humidity levels in the home, causing discomfort.
In addition to offering duct sealing, Bardi provides a range of residential air conditioning services including tune-ups and inspections, regular maintenance, repairs and replacement. Bardi provides economical and environmentally-friendly options and can install solar panels that power a home's HVAC system and other small appliances.
"Ducts are an integral part of a home's heating and cooling system and have a direct impact on the temperature and the comfort level in each room," said Bardi's Residential General Manager Gresham Ard. "When there are holes in the ducts or cracks in the seals, cool air can leak out and be replaced by hot and humid air from the attic or under the house where ducts are often found. This causes unhealthy conditions in the home and disrupts air distribution to each room, so homeowners may experience areas that are hotter. This may cause them to turn down the thermostat, running their air conditioner longer and racking up those energy bills. It may also lead to investing in 'symptom' solutions such as duct cleaning or portable air filtration, instead of getting to the root of problem, leaky ducts. Our duct sealing solves these problems."
Bardi Heating, Cooling and Plumbing is a family-owned HVAC and plumbing company in Atlanta. Founded in 1989 by Alex and Susan Bardi, the company has been providing the Atlanta area with quality HVAC services for over 25 years. Bardi also offers plumbing repairs and services, and is home to an experienced management team as well as an outstanding team of NATE certified technicians, whose number one priority is to keep their customers satisfied by "always, always, always doing the right thing." Bardi provides free electronics pick-up and recycling on all service calls benefiting Nobis Works. For more information about energy efficient HVAC products, visit http://www.bardi.com or call 770-263-5355.