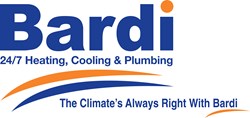 We can catch problems before they become issues so that when people use their furnaces, they are working in tip top shape
Atlanta, GA (PRWEB) October 07, 2013
Bardi Heating and Air, an Atlanta heating company, has just released a video on its website detailing the importance of having a home heating system inspected. The company has released the video in promotion of its furnace tune up service, which President Alex Bardi says is an important part of getting a house ready for winter. The video, released in conjunction with an editorial detailing the work that technicians perform during a tune up, shows a Bardi HVAC technician cleaning and inspecting a furnace unit and explaining how a clean system results in more efficient heating, lower energy bills, and fewer problems down the road.
"Having furnaces tuned up should be part of every homeowner's annual routine," says Alex Bardi. "Getting this done at the beginning of fall is the best time, because people have not yet started using their furnaces. That way, we can catch problems before they become issues so that when people use their furnaces, they are working in tip top shape."
Bardi Heating and Air offers an annual tune up service as a way to prevent system problems and keep systems healthy, which can extend the life of a furnace. This service can also prevent problems that would threaten the safety of homeowners and their families because it includes an inspection of the gas line and the flues. During this part of the inspection, technicians check to make sure that there are no gas leaks or clogged flues, both of which can cause toxic gas to leak into a home.
Bardi Heating and Air is a family-owned HVAC company in Atlanta. Founded in 1989 by Alex and Susan Bardi, the company has been providing the Atlanta area with quality HVAC services for almost 25 years. Bardi is home to an experienced management team as well as an outstanding team of NATE certified technicians, whose number one priority is to keep their customers satisfied by "always, always, always doing the right thing." For more information, please visit http://bardi.com.