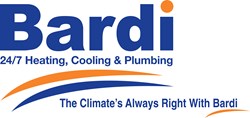 The new office is a generous space for our company to grow into. We have a lot of opportunities to expand.
Atlanta, GA (PRWEB) January 21, 2014
Bardi Heating, Cool and Plumbing, an Atlanta HVAC repair company, relocated to a larger office in December 2013. The office is located in East Norcross, GA within metro Atlanta. Prior to the transition, the company was situated in a smaller office several blocks away from the new location. The move will positively impact clients as well. Staff growth will result in more appointment availability and increased work performance.
The new office is housed in a single-story building on Peachtree Corners. The interior is dressed in calm, neutral colors. This larger office area provides the staff a myriad of benefits. The expansive space allows staff to spread out, yielding quieter working spaces. The larger space also affords Bardi the opportunity to expand staffing in the future and hire more employees.
The new office features a larger training room, conference room and meeting spaces, as well as a spacious break room for the staff outfitted with new appliances. The office includes a new Honeywell smart thermostat, which Bardi recommends and installs in homes across Atlanta. The bigger office space also provides ample storage for more parts, pieces, and tools of the trade.
"The new office is a generous space for our company to grow into," said Gresham Ard, the residential general manager at Bardi. "Our staff can spread out and really focus on work because it's quieter. We have a lot of opportunities to expand storage and staffing, as well."
Bardi Heating, Cooling and Plumbing is a family-owned HVAC and plumbing company in Atlanta. Founded in 1989 by Alex and Susan Bardi, the company has been providing the Atlanta area with quality HVAC services for almost 25 years. Bardi also offers plumbing repairs and services, and is home to an experienced management team as well as an outstanding team of NATE certified technicians, whose number one priority is to keep their customers satisfied by "always, always, always doing the right thing." For more information about Bardi, please visit bardi.com.