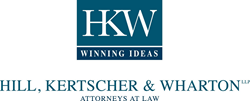 We look forward to seeing his exceptional work expand in the coming years, and congratulate him on a well-earned promotion.
Atlanta, Georgia (PRWEB) April 24, 2017
The nationally recognized law firm, Hill, Kertscher & Wharton, LLP, has continued its impressive growth strategy by naming Lucas Geren and Vivek Ganti partners in the firm.
Geren represents small and mid-size companies in general corporate matters, mergers and acquisitions, and venture capital and private equity transactions. Co-founding partner, Doug Kertscher, believes that Geren's expansive knowledge of the areas in which he practices and superior work ethic are key factors in his ability to routinely produce successful outcomes for HKW clients. "Lucas has always shown remarkably good judgment and a wisdom beyond his years. That, plus his comfort with 'thinking outside the box,' when needed, makes him a powerhouse of a corporate lawyer," said Kertscher. "We look forward to seeing his exceptional work expand in the coming years, and congratulate him on a well-earned promotion."
Ganti is a Registered Patent Agent with significant experience in high-stakes intellectual property litigation, and has played key roles in many HKW cases since he joined the firm in 2015. He represents clients in patent litigation involving infringement, invalidity, and claim construction, as well as other complex matters before the U.S. Patent and Trademark Office. Ganti has also become one of the nation's leading Inter Partes Review (IPR) attorneys, having tried numerous IPRs for patent owners and accused infringers. HKW partner, Steven Hill, is confident that his colleague will continue to play a key part in the firm's thriving IP practice. "Vivek has an incredible ability to absorb large amounts of information and effectively devise a litigation strategy for success," said Hill. "He also brings an excellent technical background which our IP group draws upon in cases involving electrical engineering and computer science matters. Vivek will continue to do great things in this area of the law, and we feel fortunate to have him as a part of the HKW team."
Hill, Kertscher & Wharton, LLP has grown by more than thirty percent in the past four years as it strives to meet client goals and maintain its position as a leader in the U.S. legal industry. Colleagues and independent organizations are taking notice. All three of the firm's named partners were recognized in Georgia Trend Magazine's annual Legal Elite edition. In addition, four HKW attorneys were selected for inclusion in the 2017 list of Super Lawyer honorees. The firm is sponsoring this month's Intellectual Property SpringPosium, which is part of the Atlanta Bar Association's roster of CLE programs.
About Hill, Kertscher & Wharton, LLP: Nationally recognized for its representation of businesses and individuals, HKW's corporate, employment, and intellectual property attorneys serve as trusted counsel to clients in Georgia and throughout the United States. The firm is AV Rated by Martindale-Hubbell and is also recognized by Best Law Firms in America.