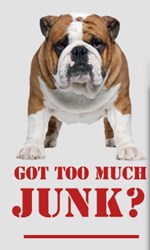 We were able to give new life to the abandoned items by donating them.
Atlanta, GA (PRWEB) January 10, 2014
Alpha Junk Removal, a junk hauling company servicing Northwest Atlanta, recently assisted rental property owners in Douglasville, GA to haul personal belongings abandoned by a previous tenant. Alpha Junk Removal has more trucks on the roads to assist homeowners and property owners throughout the Atlanta area.
The previous tenants of the rental property left behind what appeared to be all of their personal belongings, including television sets, sofas and mattresses. All of the abandoned items were collected and hauled away by Alpha Junk Removal. Items in good working order and acceptable appearance were donated to local charities such as Goodwill.
Alpha Junk Removal hauls junk from both residential and commercial spaces and works with property management groups. In addition, disaster cleanup services are available through partner company structureMEDIC, which specializes in water, fire and smoke damage remediation. Alpha Junk is able to collect, haul and dispose of all unwanted materials including appliances, construction debris, furniture, and yard waste from natural disasters such as tree branches, debris and damaged goods. The company does not haul or handle household or automotive chemicals, asbestos, hazardous waste and gasoline or petroleum products.
"This job was very interesting for our team because it appeared that the people renting the property simply left all of their stuff behind," said Stephen Elliott, owner of Alpha Junk Removal. "We were able to give new life to the abandoned items by donating them, and cleared the space so the property could be rented out."
Alpha Junk Removal is ideal for people looking to get rid of accumulated junk. Alpha Junk Removal services residences, commercial venues and assists those affected by natural disaster. The company services Canton, Kennesaw and Marietta, GA as well as the greater Atlanta area. When needed, the company also travels across the country to provide junk removal services. For more information on Alpha Junk Removal, visit the website at http://www.alphajunkremoval.com or call 404-915-5820 for 24/7 support.