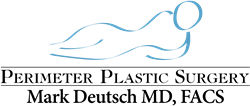 Offering financing options is a way we can help our patients who desire these procedures.
Atlanta, Georgia (PRWEB) August 07, 2015
As a leading plastic surgery practice in the Atlanta area, Perimeter Plastic Surgery strives to offer flexible financing options to their patients as a way to further assist them in achieving their aesthetic goals. Most recently, Perimeter Plastic Surgery has added Alphaeon™ Credit to its list of preferred cosmetic surgery financing companies.
"Many times people want very much to have cosmetic surgery done, but their insurance company doesn't cover it and the patient doesn't have ability to pay for the procedure out-of-pocket," notes Mark Deutsch, MD, director and board certified plastic surgeon of Perimeter Plastic Surgery. "Offering financing options is a way we can help our patients who desire these procedures."
Established in 2014, Alphaeon™ Credit is a new tool for patients seeking to finance self-pay lifestyle healthcare procedures through board-certified specialty physicians in plastic surgery, facial plastic surgery, dermatology and ophthalmology.
Perimeter Plastic Surgery made the decision to begin offering Alphaeon™ Credit, because they are doctor- and surgeon-owned, and offer accessible forms of financing to patients in the Atlanta area. Alphaeon™ provides an easy to use on-line program that has strong approval rates, superior credit limits, and a wide array of payment plans that are not always offered with credit cards. Within just minutes patients will know if they are approved and for what amount.
Through Alphaeon™ Credit, Perimeter Plastic Surgery is offering their patients payment plans ranging from 24 to 36 months with interest, as well as three and six month interest-free plans. Additionally, Alphaeon™ does not charge an application fee, annual fee or pre-payment penalty, and the credit card can be used again for future elective healthcare services or procedures by the patient or a family member.
For further information about this new financing available at Perimeter Plastic Surgery, visit http://perimeterplasticsurgery.com/our-practice/financing and click on "Alphaeon Credit."
About Perimeter Plastic Surgery:
Dr. Mark Deutsch is the founder of Perimeter Plastic Surgery and a top plastic surgeon in Atlanta. He is board certified by the American Board of Plastic Surgery, and performs a variety of cosmetic and reconstructive surgeries. In addition to his work in the United States, he travels annually to South America to perform volunteer procedures. For more information about Dr. Deutsch and Perimeter Plastic Surgery, please visit http://www.perimeterplasticsurgery.com.