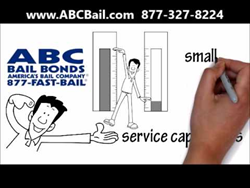 We provide simple bail bonds solutions in Newark as well as all of New Jersey and Pennsylvania and our bondsmen explain the bail process
Atlantic City, NJ (PRWEB) April 05, 2015
Atlantic City bail bonds Company ABC Bail Bonds is pleased to announce the launch of their new customer review drive. ABC is giving away a $100 American Express Gift Card in the form of a raffle. Customers who have hired ABC for Atlantic City bail bonds who leave an honest review of the company, positive or negative will be automatically entered into a drawing for the $100 cash card. The drawing will be held on 04/20/2015 and the winner will be notified by email.
Atlantic City bail bonds experts at ABC are excited about this new review drive. "We have helped thousands of people get out of jail as fast as possible and we get a lot of positive letters and notes from our customers. We thought it would be a good idea to let even more people know about the speed, quality and flexible payments available from our Atlantic City bail bonds company," says Jonathan of ABC Bail Bonds serving Atlantic City.
Newark bail bonds company ABC Bail Bonds prides themselves as being America's Bail Company. "We provide simple bail bonds solutions in Newark as well as all of New Jersey and Pennsylvania and our bondsmen explain the bail process to help people understand the process so they can know exactly what to expect," says Jonathan. The Newark and Trenton bail bonds pros at ABC also offer people no interest payment plans to make the situation as manageable as possible. "We work with people on the payments because we are sympathetic to the situation. Nobody expects to be dealing with getting somebody out of jail and we try to make it as easy as we can. Our bail agents are standing by 24 hours a day."
Newark bail bonds experts at ABC pride themselves on having more resources than other so called mom and pop bail bonds companies. "With over 40 licensed agents serving Newark, Camden, Trenton, Atlantic City and all of New Jersey and Pennsylvania, we can cover a lot more ground and secure the release of more people in custody than smaller companies because we have the agents to cover it," says Jonathan. "A lot of other outfits in New Jersey and Pennsylvania can literally only bail out 1 or 2 people at a time because they don't have enough bail bond agents to get to more people out than that." As America's Bail Company, ABC also works with a national network of bail companies and they can facilitate release from any jail in the United States 24/7.
To learn more about the Camden bail bonds professionals at ABC Bail Bonds, please visit their new website. To secure jail release for a friend or loved one, please call ABC Bail Bonds now at 877-327-8224. People are also invited to view their informative online bail videos and read their press releases. Call 877-327-8224 now to get immediate help from an experienced bail bondsman in Atlantic City.
ABC Bail Bonds
Atlantic City, NJ 08401
(609) 345-2245
abcbail.com