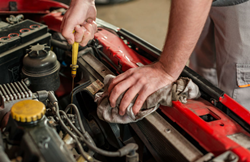 BAY SHORE, N.Y. (PRWEB) April 17, 2019
When drivers purchase a new or pre-owned vehicle at Atlantic Honda, they can take advantage of several services. Maintenance is an important part of owning a car. That is why the technicians of Atlantic Honda want to make it easier.
There are several services covered under the Complimentary Maintenance Program. After purchasing an eligible vehicle from Atlantic Honda, owners can take advantage of the one-year maintenance package. This package includes three oil and filter changes, lubrication of key chassis parts, exterior paint protection, interior fabric protection, and a 19-point fluid and visual inspection.
As a part of the fluid and visual inspection, there are several parts of the vehicle that are covered. This complimentary service includes coolant replenishment, a power steering inspection, transmission and windshield washer inspection. If there is something wrong with your air filter, axle boots, cooling system, exhaust system, suspension, tire pressure or windshield wipers, the mechanics at Atlantic Honda can help fix those issues with no cost to car owners.
Visitors to the Atlantic Honda service department can enjoy the free Wi-Fi, local shuttle service and big screen TVs in the waiting room. The technicians are expertly trained to help give guests the best service as well as diagnose any issues with the vehicle.
Interested parties that would like to learn more about the Complimentary Maintenance services or any other service specials at Atlantic Honda can visit the dealership's website at atlantichonda.com. Drivers can also contact the dealership for more information or ask questions by calling 631-328-2060 or by visiting the dealership at 1375 Sunrise Hwy Bay Shore, NY 11706, to talk with representatives.