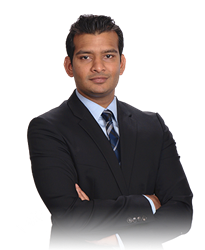 Spinal bone spurs develop as the body's response to injury to the bone, which can be the result of a traumatic event or simply from aging.
West Orange, NJ (PRWEB) January 27, 2017
Spinal bone spurs, also known as osteophytes, are common and some people don't even know they have it. But for others, these bony overgrowths can cause real problems. According to orthopedic spine surgeon Praveen Kadimcherla, MD, with Atlantic Spine Center, "spinal bone spurs aren't really shaped like spurs. They're actually smooth and don't protrude much." Spinal bone spurs develop as the body's response to injury to the bone, which can be the result of a traumatic event or simply from aging.
"The regular wear and tear of living and the damaging effects of osteoarthritis gradually degrade the discs and joints in the spine," says Dr. Kadimcherla. As this happens, the body creates additional bone to help heal itself and shore up the structures that are being eroded. This additional one is the bone spurs or osteophytes.
According to Dr. Kadimcherla nearly all people develop some bone spurs by the age of 60. As a general rule, bone spurs aren't painful on their own. But in some cases the spurs develop around one or more of the openings in the spine (called foramen) that carry the spinal nerve structures to the rest of the body. In these cases they can cause problems. "When the bone spur develops around the foramen they make the openings smaller. The result is a condition called foramen stenosis," he explains. This narrowing and the resulting nerve impingement can cause symptoms including pain, numbness or tingling and in the worst cases, muscle weakness.
Patients with bone spur-related pain typically say their symptoms get worse with activity and improve with rest. The pain associated with lumbar spurs also gets better when the patient bends forward, which expands the spine and temporarily frees the impinged nerve.
Tips on treating spinal bone spurs

In the majority of cases, mild to moderate bone spur-related pain can be treated with conservative measures including over the counter medications (nonsteroidal anti-inflammatory drugs, or NSAIDs, like Advil), physical therapy, as well as rest and activity modification. Given that bone spur related symptoms often are influenced by activity, patients are generally advised first to rest or otherwise cut back on their regular activities to see if the pain goes away.
If rest and over the counter medications don't provide relief, in some cases, patients are given epidural steroid injections to help manage the pain caused by bone spurs. This is not a permanent cure, but it can reduce the pain and allow physical therapy (and everyday life) to be more productive.
If six to eight weeks of conservative treatment doesn't solve the problem, a patient may be a candidate for surgery. The goal of the surgery will be to remove the bone spurs and repair any damaged areas in the surrounding spinal structures.
Dr. Kadimcherla adds that, "today we can offer patients minimally invasive endoscopic spinal bone spur surgery. This involves very small incisions, no hospital stay, minimal pain, and a quick recovery, typically between ten days and a couple of weeks. The most effective outcome for providing relief for patients involves an early and proper diagnosis. With this, we can best pin point the exact cause of a patient's pain and determine the most effective way to relieve it."
Praveen Kadimcherla, MD, is a board-certified orthopedic spine surgeon at Atlantic Spine Center.
Atlantic Spine Center is a nationally recognized leader for endoscopic spine surgery with several locations in NJ and NYC. http://www.atlanticspinecenter.com, http://www.atlanticspinecenter.nyc