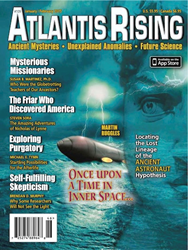 the ancient astronaut idea has been around for at least 250 years—maybe much longer.
Livingston, MT (PRWEB) December 16, 2014
In the wake of the success the History Channel's "Ancient Aliens," it should come as no surprise that the original idea—that extra-terrestrials have influenced development of civilization on Earth—is now attributed to many. According to Dr. Gregory Little, Ed.D.—researcher, publisher of the online magazine Alternative Perceptions, and regular contributor to Atlantis Rising—who has studied the matter extensively, the ancient astronaut hypothesis has been attributed to everyone from horror writer H.P. Lovecraft to popular astronomer Carl Sagan, but few contemporary researchers really understand the true origin of the concept.
"Skeptics," says Little, "will seemingly go to great lengths to demean the Ancient Aliens idea." The very notion, they will say, was plagiarized from science fiction. In fact, he says, the ancient astronaut idea has been around for at least 250 years—maybe much longer. It was discussed at length Little points out by the great eighteenth century Swedish polymath Emmanuel Swedenborg, and by others.
Among other exciting reports in its January/February issue Atlantis Rising, features popular author Steven Sora who recounts the little known story of Nicholas of Lynne, "The Friar Who Discovered America." Also, in "The Miracle of Spontaneous Remission" Patrick Marsolek investigates the well documented anomaly which continues to frustrate the understanding of mainstream medicine. The new Atlantis Rising will be on newsstands by mid-December.
About Atlantis Rising Magazine
While many scientifically oriented publications are content simply to pass on the latest pronouncements of the established research community, Atlantis Rising Magazine regularly reports on news and developments which challenge the very foundations of orthodox thinking. Atlantis Rising offers you what many in the mainstream press and the tabloids don't—the hard-to-find-out truth.
Atlantis Rising offers credible, colorful, well researched, well illustrated and well written articles featuring the top people in some of the least understood areas of current investigation. We provide a serious forum for alternative ideas of pre-history, science and culture. Not surprisingly, the publication has become the magazine of record on ancient mysteries, alternative science and unexplained anomalies.