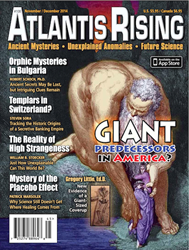 ATLANTIS RISING MAGAZINE Challenges Orthodoxy - Scientific And Otherwise
Livingston MT (PRWEB) October 14, 2014
From Dante's "Divine Comedy" to "Jack and the Beanstalk"; from the Hebrew Scriptures to the "Book of Enoch"; western culture is replete with references to ancient giants, who were said to have left deep marks on our psyche, if not on the archaeological record. The suggestion that such accounts could be based on fact has long been ridiculed by orthodox archaeology, but such reactions, it turns out, are not informed by the actual evidence? Emerging new details are providing a very surprising picture of North America's mysterious mound builders.
In its November/December cover story (on newsstands in mid October) "Atlantis Rising Magazine" takes a look at new evidence that mainstream science may not have been giving us the complete story about real evidence for some very big predecessors in America's history. Gregory Little, Ed.D., author of "The Illustrated Encyclopedia of Native American Mounds and Earthworks", joins with colleague researcher Andrew Collins ("Gobekli Tepe—Genesis of the Gods") in a new report on irrefutable evidence that there were many true physical giants among the builders of some of our most enigmatic ancient monuments, and moreover, that such evidence has been systematically hidden by some in the scientific establishment.
Among other exciting reports in the new "Atlantis Rising," Dr. Robert M. Schoch explores "Orphic Mysteries in Bulgaria", and Steven Sora investigates the historic origins of a secretive banking empire and provides details of "Templars in Switzerland."