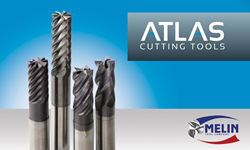 Our End Mill product range now extends to over 25,000 products to meet the increasing demands of our online customers
Terryville, Connecticut (PRWEB) November 12, 2015
In a strategic move to continually meet increasing customer demand, Atlas Cutting Tools has selected Melin Tool Company as a premier retail partner to expand their high performance end mill carbide tool offering.
Atlas has selected Melin for their exceptional build quality and reputation across their complete line of carbide cutting tools. As one of the very first end mill manufactures in the USA, Melin Tools has established their rightful place as an industrial leader. They have manufactured high performance end mills, drills and cutting tools since 1940. The family owned business manufactures all products in the USA.
Nicholas Dabbo, director of Atlas Cutting Tools, commented "We're proud to announce the addition of Melin Tools to Atlas' wide selection of cutting tools. Atlas and Melin share many of the same values in terms of high standards for both manufacturing and product engineering."
Mr. Dabbo went on to say, "Our End Mill product range now extends to over 25,000 products to meet the increasing demands of our online customers. Our range of USA made Melin high performance End Mills are competitively priced with same day shipping on all in stock items."
About Atlas Cutting Tools:
Atlas Cutting Tools is a Connecticut based company that stocks a range of over 35,000 premium USA manufactured cutting tools through their online web store http://www.atlascuttingtools.com. Since 1992, Atlas Cutting Tools has been supplying 1000's of machine shops and manufacturing customers across North America with high quality USA made cutting tools at competitive prices, combined with great customer service.
About Melin Tools:
Family owned and operated since 1940, Melin Tool began as one of the earliest manufacturers of end mills. Today, Melin Tool continues to be a leader in offering an ever-expanding product line of high quality end mills and other cutting tools, such as countersinks, drills, thread mills, and other high performance and specialty tools.