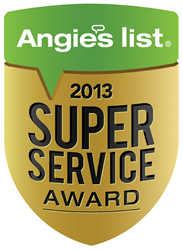 'We're very happy to have received this accolade. Each year, less than 5% of thousands of businesses earn this award, so to have our customers grade us in such a favorable manner is very special to us,' said Billy Mahone, Owner of Atlas Floors Carpet One
San Antonio, TX (PRWEB) April 22, 2014
"We're very happy to have received this accolade. Each year, less than 5% of thousands of businesses earn this award, so to have our customers grade us in such a favorable manner is very special to us. All of our staff members continue to work hard and show a level of service that is second to none, and I'm really proud of that!", said Billy Mahone, owner of Atlas Floors Carpet One in San Antonio, TX.
The Super Service Award is based on businesses overall ratings and reviews from November 1st thru October 31st of the next year and winners are notified in December.
To learn more about Atlas Floors Carpet One, visit http://www.atlasfloors.com or http://www.facebook.com/atlasfloorssanantonio.
About Atlas Floors Carpet One
Since 1948, family-owned Atlas Floors Carpet One has been the premiere San Antonio, TX floor supplier and installer of quality carpet, hardwood floors, ceramic tile, laminate and vinyl flooring for local homes and businesses. Atlas Floors Carpet One helps its customers identify the best surface for their home or business. With its two San Antonio locations, Atlas Floors Carpet One and its knowledgeable professionals can be trusted for expert advice, first-rate service and competitive pricing.
Media Contact:
Billy Mahone
210-734-5007
http://www.atlasfloors.com