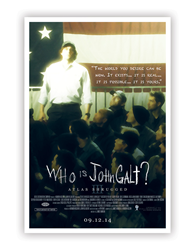 Ayn Rand has an intensely passionate fanbase.
Los Angeles, CA (PRWEB) April 29, 2014
Atlas Distribution Company announced today a marketing campaign geared towards giving fans of Ayn Rand and Atlas Shrugged the opportunity to be in the movie "Atlas Shrugged: Who is John Galt?" releasing later this year.
"Ayn Rand has an intensely passionate fan-base. We're very excited to be able to invite them to participate in the final installment of the trilogy and to be part of Atlas Shrugged history," said Associate Producer Scott DeSapio.
Fans are asked to submit a video of themselves asking "Who is John Galt?" and declaring "I Am John Galt" this week in order to be considered for inclusion the film. For specific details, including how to submit a video, individuals should visit: http://www.galtsgulchonline.com/posts/77608cc/are-you-ready-for-your-close-up-be-in-asp3.
The film is an adaptation of Ayn Rand's 1957 novel, "Atlas Shrugged." While nearly all of society's most productive have mysteriously disappeared, the government continues to drive the economy to collapse by regulating and imposing its brutality on the country's few remaining entrepreneurs. The film was directed by James Manera, produced by Harmon Kaslow and John Aglialoro, and stars Kris Polaha as John Galt and Laura Regan as Dagny Taggart. The film also includes Rob Morrow, Joaquim de Almeida and Greg Germann.
The prior two parts of the "Atlas Shrugged" trilogy are currently available on DVD & Blu-ray, iTunes, or streaming on Netflix and Amazon.

Official Movie Web Site: http://www.WhoIsJohnGalt.com
Official Atlas Shrugged Forum: http://www.GaltsGulchOnline.com
About Atlas Distribution Company
Atlas Distribution Company was formed by John Aglialoro to distribute the trilogy adaptation of Ayn Rand's epic novel, Atlas Shrugged and other motion pictures. For more information, visit http://www.AtlasShruggedMovie.com.