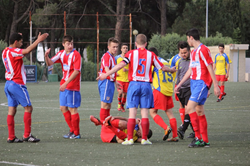 The 28th annual Alcala de Henares Cup did not disappoint and nor did our EduKick Madrid players! To reach the final and face Atletico Madrid was an enormous source of pride for everyone involved with EduKick Madrid. We're very proud.~Joey Bilotta, EduKick
Madrid, Spain (PRWEB) May 02, 2014
The EduKick Madrid International Football Academy under-18 squad met the LA LIGA leaders and Champion's League finalist, Atletico de Madrid Under-18 squad in the final of the famous Spanish tournament, The Alcala de Henares Cup.
It was the 28th annual Alcala de Henares Cup contested April 17 - 20 that finished with Atletico Madrid defeating EduKick Madrid 2-1 in a tightly contested final.
This highly regarded Spanish youth soccer tournament is based in Alcala de Henares, (Madrid, Spain), a small city on the outskirts of Madrid which has been recently honored as a World Heritage site by UNESCO. It's home to one of the most important writers in Spanish literature's history...Miguel de Cervantes, author of the famous book, El Quixote.
The 28th annual Alcala de Henares Cup is an enormous celebration for the EduKick international soccer community because it always brings everyone involved with EduKick International Football Academies (players, associates, family and friends) to beautiful Madrid, Spain to enjoy some of the famous Spanish culture, food, soccer and friends in the Spanish capital.
In the last two previous tournaments it was the "other" Madrid squad, Real Madrid C.F. that sent their under-18 side to the Alcala Cup, winning it on both occasions. Three years ago, it was EduKick Madrid that took home the prestigious Cup but this year the Atletico Madrid U-18 squad would not be denied. Much like the senior side appear they also will not be denied a LA LIGA title and possibly even the 2014 Champion's League title, as they face off against cross-town rivals Real later this month for a much anticipated "all Madrid" final.
EduKick Madrid opened the Alcala de Henares Cup with a draw against CD Avance B and a 2-0 victory over Guadalajara CD while Atletico Madrid also tied against CD Moscardo and beat CD Avance A in very physical match, one to nil.
On day two, EduKick Madrid tied both fixtures against CD Moscardo and CD Avance A, while Atletico Madrid won both of their matches. On day three, EduKick beat At. Torrejon and then faced off against Atletico Madrid in their final group match, stubbornly holding the Spanish giants to a 0-0 tie. When Atletico Madrid disposed of CD Guadalajara the group stage matches were complete.
Atletico Madrid progressed to semi-final and won and then awaited the winner of EduKick Madrid vs, CD Avance A in the other semi-final. After a goalless draw the teams went directly to penalty kicks where EduKick Madrid prevailed, much to the credit of standout goal keeper, Manu Melero. The final was set...Atletico Madrid vs. EduKick Madrid.
Although EduKick defended well and had several attacking chances, the famous red and white striped kit of Atletico Madrid proved to be too strong. At the final whistle Atletico managed to win the match 2-1 in front of a loud and enthusiastic crowd of chanting fans at the grounds of CD Avance, the tournament host.
EduKick founder and owner, Joey Bilotta said, "The 28th annual Alcala de Henares Cup did not disappoint and nor did our EduKick Madrid players! To reach the final and face Atletico Madrid was an enormous source of pride for everyone involved with EduKick Madrid. We're very proud.~Joey Bilotta, EduKick."
EduKick International Football Academies (EIFA) has open enrollment for their 2014/15 soccer and education courses available in England, Spain, Germany, France, Italy, USA, Brazil and Mexico. EduKick provides academic year and academic half-year football academy boarding school courses in each of its international venues. Each venue has full-time educational options (such as ESL, EFL, BTEC Sports Science, Foreign Language Study, IGCSE and A-Level, and USA 8-12 Online Distance Learning).
Interested parties please contact EduKick, Inc. directly via the contact information provided in this news release.