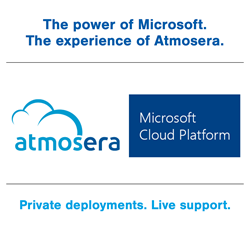 Partners like Atmosera are an important part of our strategy to ensure more businesses build their cloud solutions using Microsoft technology and get expertise and support from local cloud solution providers."
Portland, Ore (PRWEB) July 28, 2015
Atmosera announced it is now a part of the Microsoft Cloud OS Network (COSN) and complies with its rigorous criteria for excellence and expertise surrounding Microsoft Cloud Platform and Azure deployments. The Cloud OS Network is a worldwide group of select service providers that offers technically validated, hybrid cloud and Azure-enabled solutions. Atmosera hybrid cloud solutions can now be based on the Microsoft Cloud Platform and are engineered using Windows Server 2012 R2 with Hyper-V, System Center 2012 R2, and Windows Azure Pack. Environments support both Windows and Linux-based operating systems. Every solution includes a unified view of a client's entire infrastructure, consolidated monitoring, security management, governance and simplified billing. By leveraging a single technology stack with built-in capabilities, clients can reduce the need for additional third party applications and realize financial savings.
Atmosera brings years of engineering and deployment experience to accelerate successful Microsoft deployments. Cloud OS Network compliance certifies Atmosera's proficiency and strict adherence to best practices. Atmosera takes advantage of Microsoft's technology and deploys it in a secure, dedicated environment with 24x7x365 live support. Clients can also take advantage of other Atmosera advanced services including disaster recovery, end-to-end security management, compliant environments for HIPAA/HITECH and PCI DSS, SQL Server application management, Office 365 licenses, and remote hands capabilities anywhere in the world.
Key Facts

Atmosera has over 20 years of experience delivering a consistent and outstanding client experience.
Atmosera is now a Cloud OS Network compliant service provider.
Atmosera can deploy Microsoft Cloud Platforms in Atmosera operated data centers or on-site in a client's own facilities.
Atmosera leverages a proven engagement process and validated Microsoft reference architectures to easily adapt and meet the needs of various industries.
Atmosera operates award-winning data centers and offers numerous options for disaster recovery, networks and compliance including HIPAA/HITECH and PCI DSS.
Supporting Quotes

"We always strive to deliver the best possible solution for our clients who want a secure hybrid cloud solution," said Jon Thomsen, CEO at Atmosera. "Our participation in the Microsoft Cloud OS Network brings a highly compelling offering for clients who want to better leverage Microsoft technology. We are excited to bring our clients new capabilities and to help them harness the true power of the cloud."
"The Cloud OS Network highlights partners who have demonstrated a commitment to Microsoft technology and expertise deploying cloud solutions," said Aziz Benmalek, vice president, Worldwide Hosting and Cloud Services at Microsoft Corp. "Partners like Atmosera are an important part of our strategy to ensure more businesses build their cloud solutions using Microsoft technology and get expertise and support from local cloud solution providers."
Resources

About Atmosera
Atmosera is the trusted, transparent, and secure global hybrid managed solution partner to companies and Software as a Service (SaaS) providers. Atmosera delivers enterprise-grade, fully managed private, public and hybrid clouds, colocation, and advanced services to enable clients to focus on running their business while maximizing the value of technology and minimizing risks. Atmosera tailors solutions to each client's individual needs by bringing together people, technology, and processes to ensure exceptional execution. Clients benefit from secure, world-class solutions, expertly engineered, deployed, and operated 24x7x365.
Clients including Blount International, DealerPeak, Great Western Malting, Icebreaker, Lattice Semiconductor, Learning.com, New Seasons Market, OCHIN, and Oregon Freeze Dry trust Atmosera with their mission critical applications and business.
Please visit atmosera.com