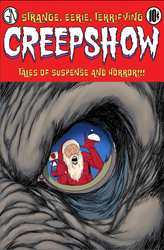 "I've always loved Halloween," said Nicotero. "And after I discovered how easy it is to create Hollywood-level effects at home with AtmosFX Digital Decorations, I reached out to them to see if they could help us for two episodes of Season 2."
SEATTLE (PRWEB) March 25, 2021
AtmosFX, the holiday decorating company known for inventing projection-based home decorating, is proud to announce its collaboration with Greg Nicotero and KNB EFX on visual effects for two episodes of Shudder's Creepshow.
Shudder, AMC Networks' premium streaming service for horror, thriller and the supernatural, will soon start broadcasting Season 2 episodes of the anthology series, which shattered all Shudder records when it debuted last October. The show is executive produced by showrunner Greg Nicotero (The Walking Dead) and based on George A. Romero's iconic 1982 movie of the same name.
This collaboration came about due to Nicotero's enjoyment of Halloween-themed AtmosFX Digital Decorations and his desire to work with AtmosFX for this show.
"I've always loved Halloween," said Nicotero. "And after I discovered how easy it is to create Hollywood-level effects at home with AtmosFX Digital Decorations, I reached out to them to see if they could help us for two episodes of Season 2."
AtmosFX's founders Peter Reichert and Pete Williams were excited for the opportunity to work with Nicotero and KNB EFX, the special effects company he founded in 1988. The company handles the creature and makeup effects for Creepshow, among many other shows and movies.
"We're big fans of Greg from his recent work with Creepshow and The Walking Dead all the way back to the amazing makeup he did on horror favorites like Army of Darkness, In The Mouth of Madness, Bride of Re-Animator and so many more. When he reached out to us we knew we wanted to work with him," said AtmosFX CEO Peter Reichert.
"We created a custom werewolf transformation that was in the recent Creepshow Holiday Special "Shapeshifters Anonymous" episode, and some of our Creepy Crawlies 2 Digital Decorations will also appear in the upcoming "Pesticide" episode which will air on April 8," said AtmosFX Director of Production Pete Williams. "We can't wait to watch it!"
In addition to creating the werewolf transformation, AtmosFX released five new Halloween-themed digital decoration collections as well as three new collections for Christmas and Hanukkah in 2020. AtmosFX is currently developing a slew of new decorations for 2021.
Creepshow smashed records for Shudder in number of viewers, new subscriber sign-ups and total minutes streamed to become the most watched program in Shudder history. It then had a successful run on AMC. The show was a hit with critics as well as fans, emerging as one of 2019's best-reviewed new genre series, with a 97% Fresh rating on review aggregator Rotten Tomatoes®. The inaugural season starred David Arquette, Adrienne Barbeau, Tobin Bell, Big Boi, Jeffrey Combs, Kid Cudi, Bruce Davison, Giancarlo Esposito, Dana Gould, Tricia Helfer and DJ Qualls and featured adaptations of stories by Stephen King, Joe Hill, Joe R. Lansdale, Josh Malerman and others.
ABOUT ATMOSFX
AtmosFX is a Seattle-based company that seeks to dramatically change how people decorate their homes for holidays, parties and other celebrations. Through the use of beautifully animated characters, stories and atmospherics, AtmosFX Digital Decorations are an ingenious – and easy – way to decorate anywhere, any time of year. Endlessly versatile and entertaining, AtmosFX offers a variety of innovative, Hollywood–quality decorations that can be viewed on any TV or monitor, and projected on surfaces such as windows, walls – even thin air.
AtmosFX was founded in 2008 by Pete Reichert, a former MTV producer, and Pete Williams, an animator and show creator. Both were inspired by the visual effects and animations they created for amusement parks and museums. Today, AtmosFX is the fastest growing digital home decorating company with customers in more than 150 countries around the world. To learn more about AtmosFX, visit http://www.atmosfx.com.
ABOUT KNB EFX
Founded in spring of 1988, the KNB EFX Group, Inc has been a Make-up Effects powerhouse in Hollywood for 25 years. Specializing in character prosthetics, animatronics, creatures creation and replica animals, Greg Nicotero and Howard Berger have over 800 feature film and television credits to their name including INGLOURIOUS BASTERDS, OZ THE GREAT AND POWERFUL, LONE SURVIVOR, BREAKING BAD, PREDATORS, HITCHCOCK, THE GREEN MILE, SIN CITY and AMC's hit series THE WALKING DEAD to name a few.
Collaborating with the best artists in the business, KNB's work continues to provide filmmakers with the most ingenious and creative make-up effects to date. Their 20,000 square foot state of the art facility located in Chatsworth, California, is the base of operations that serve film & television production all over the world.
Their personal devotion and love of film has endeared them to the best directors and producers in the business, making KNB EFX the premiere spot in town.
ABOUT SHUDDER
AMC Networks' Shudder is a premium streaming video service, serving members with the best selection in genre entertainment, covering horror, thrillers and the supernatural. Shudder's expanding library of film, TV series, and originals is available on most streaming devices in the US, Canada, the UK, Ireland, Germany, Australia and New Zealand. For a seven-day, risk-free trial, visit http://www.shudder.com.